'Days of Our Lives' Olympics Disaster
Explosive cliffhanger will leave fans biting their nails until after the London Games
With the 
Summer Olympics about to take over NBC
, "Days of Our Lives" is set to go dark for two weeks. Bob Costas, Matt Lauer and Meredith Vieira
will host the London Opening Ceremonies on Friday, July 27, but not before an explosive "Days of Our Lives" cliffhanger that will leave fans biting their nails until the show's Aug. 13 return. 
Bing: More about "Days of Our Lives" | The London Olympics
"We've got major stuff leading up to the Olympics and major secrets you won't want to miss when the Olympics are over," executive producer Greg Meng told MSN TV. "You will not want to miss it."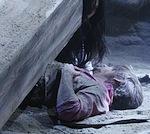 On Wednesday's show, an explosion rocked the Salem tunnels, but the big cliffhanger blowout will come Friday during the Autism fundraiser in Lexi's honor. "Days of Our Lives" teasers warn that not everyone will survive the big blast. 
"A huge explosion leaves Roman and Lucas unconscious; Madison, Ian, Nicole and Daniel dodging falling debris in the ballroom; Abigail trapped in an elevator; and Sami hanging from a catwalk as EJ desperately tries to hold onto her," according to Days of Our Lives Fans. 
Also: 2011-2012 TV season in review | Shows that went too soon | Also: Summer TV report card
Whatever goes down in the cliffhanger episode, there are a few exits fans can count on when the show returns in August. Christie Clark (Carrie) and Patrick Muldoon (Austin) have already wrapped up their runs in Salem. Sarah Brown (Madison) and Matthew Ashford (Jack) only get a few more days in town, sharing a final air date of Aug. 15. Ian Buchanan's (Ian) last air date is Aug. 22, while Molly Burnett (Mel) exits Sept. 27. Peter Reckel (Bo) has wrapped taping, with Bo set to exit the canvas sometime in the fall. 
These shake ups leave room for the returns of Eileen Davidson's Kirsten and Blake Berris's Nick. Teasers also suggest Joe Mascolo's Stefano may rise from the ashes, yet again. There are also rumors swirling that Greg Vaughan could be taking on the role of Sami's twin brother, Eric. Whether or not it's Vaughn in the role, it sounds like Eric is definitely heading back to town soon. 
"Days of Our Lives" fans can also expect more of Alice's secrets to unfold, but they will have to wait until August to see how it all plays out. 
"Days of Our Lives" airs weekdays on NBC until the Olympics and will return Monday, Aug. 13. The Olympics Opening Ceremony will air Friday, July 27, at 7:30 p.m. ET/PT on NBC.