Blake Berris Teases a Wild 'Days of Our Lives' Ride
Nick and Gabi pairing could mean trouble in Salem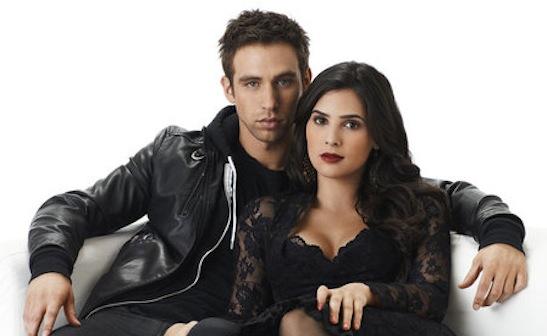 "Days of Our Lives" let Nick Fallon out of prison after only serving three years of his sentence and then tied the paroled killer into an apron, alongside head case Gabi. As Nick and Gabi grow closer and Chad gets angrier, Blake Berris (Nick) teases what the future holds for Salem. One hint: It's going to get crazy! 
Bing: More about "Days of Our Lives" | Blake Berris
When a potential romance blooms between two obsessive stalkers, it's hard to know which one to worry about.  Even worse, what if the demented duo teams up against someone else? Gabi came to Nick's rescue when Chad went on the attack recently and on Wednesday, Oct. 3, Nick will return the favor. As "Days of Our Lives" builds to its big 12,000th episode in December, Berris reveals trouble is in the cards -- but for whom?
Plus: Geeking out on TV title sequences | TV women who need to be saved | 11 of TV's scariest series
MSN TV: How is your return to "Days of Our Lives" going so far?
Blake Berris: I've been having a blast playing some of the best daytime material I've ever seen. The writers are doing an incredible job of resurrecting this character and bring him back to life. We saw this dark side of Nick come out before he went to jail. Now he's back and trying desperately to re-assimilate into society; but he's afraid of this dark side of himself that people can't trust and he himself can't trust.
Salem has changed a lot while he was away. How is Nick adjusting?

Maybe not so well. He's doing his best to acclimate and find his footing again, but there's a lot of things that start throwing him off.
Would you like to see Nick keep it together, or is more fun going off the rails?
It's always more fun to go off the rails, but I also like the suppression, to an extent. The pot's boiling and simmering, but you don't know when it's going to totally blow. I've been loving that.
What about what Nick wants: After all he's been through over the years, is he hoping to have a quieter go of it this time round?

(laughs) He's totally hoping to have a quieter life, but I can guarantee that won't happen.
Gabi seems to be sucking him right into her machinations and craziness.
It will be interesting to see who proves to be crazier. To be honest, what he did was so much more intimate. What Gabi did was almost indirect, in a way, and accidental. He killed someone and kidnapped Melanie and manipulated her into running away with him and thinking she killed her own father. That's pretty messed up.
Should we be worried about this pairing?
When two people find each other, especially two intense people like Gabi and Nick, there's a lot of passion, fireworks and excitement. There's also a lot of drama. So yeah, you should be worried. You should be excited. 
When Nick stands up to Chad for Gabi this week, is that about helping her or getting back at Chad?
He definitely sees a kindred spirit and Gabi. She's his first friend he's made in Salem since leaving and he likes her a great deal.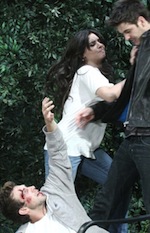 So it's not about taking a jab at Chad?
Well, what could be harder than having to endure a beating like that, with out being able to fight back? Nick was paralyzed in that situation, basically, because he's on parole. There were handcuffs on him. He could not fight back, otherwise he be totally screwed.
Chad is spinning out of control. Will he continue being a problem for Nick?
Yes, the rivalry continues. Chad makes his blood boil… and Gabi makes his blood boil in a different way.
Nick's such a little Brainiac. Is working at a pub going to be enough for him?
I hope not! I don't think he's satisfied with it, but it's work that he is enduring because it's his only option at the moment. We're going to see Kate and Sami start to pursue him for another job.
The pub does open you up to more players in town: Who were you looking forward to working with when you returned?
It's funny. Last time around, I think I said Lauren Koslow (Kate) and Kristian Alfonso (Hope) were people I wanted to work with and I've been lucky. Nick has formed a relationship with both Kate and Hope, in different ways. I love that Hope has become a champion and a mentor to Nick. I love their relationship. And I love working with Chandler Massey (Will). I think he's just a fantastic young actor and I've been excited to work with him, as well.
How will Nick handle learning that his old friend Will is gay?
Nick definitely has a strong reaction.
You recently tweeted your excitement about the "Days of Our Lives" 12,000th episode. What can you tell us about the story building up to that big episode?
All I can say is it is a wild ride and it involves Nick and Gabi. People are going to be really into it. It's thrilling me, every new script I get. I've thrown my script across the room, like, "Oh my god!" It's so good, the writing. You'll never guess [where it's going]. It just keeps shifting in ways you won't predict. It's so intense! 
"Days of Our Lives" airs weekdays on NBC.