Report: Real-life 'Dexter' executed
Was Manuel Pardo the inspiration for hit Showtime series?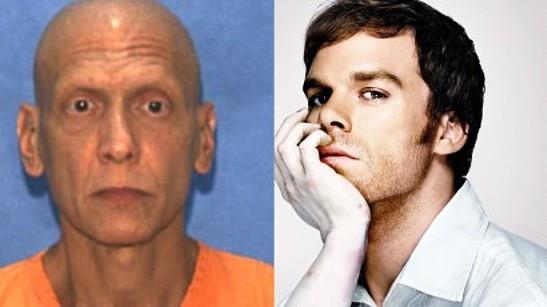 Last week marked the end of possibly more than just Season 7 for "Dexter." According to askmen.com, the show's real-life inspiration was executed in Florida on Dec. 11. Manuel Pardo, a former Miami policeman, killed nine during a 1986 crime spree.  
Bing: More about "Dexter"
Neither the show's writers nor its creator, Jeff Lindsay -- author of "Darkly Dreaming Dexter," the book upon which he based the Showtime series -- have ever mentioned Pardo by name in interviews. However, certain similarities are striking, as askmen.com points out:
 
1) Pardo was a former Miami policeman
2) Pardo's victims were bad guys (mostly drug dealers)
3) Pardo collected keepsakes from his crimes (not blood slides, but ashes from the cartridges he used to kill his victims)
4) Pardo pinned up photos of his intended targets in his apartment, as Dexter (Michael C. Hall) does on his computer, and
5) Pardo was a father and family man.
But perhaps the most compelling circumstantial evidence is the name of the character played by Jimmy Smits in Season 3: Miguel Prado. (He was an assistant district attorney-turned-kill​er.)
Plus: Best and worst shows of 2012 | Holiday viewing guide | Memorable moments of 2012
"Jeff Lindsay has always lived in Miami, so I think he must have known about the case," French serial-killer expert Stephanie Bourgoin told askmen.com. "Now, maybe he forgot about it, or maybe there might be financial reasons here; when you take somebody's life and put it on-screen, they might ask for royalties, at least if you acknowledge it with a direct reference."
Does Manuel Pardo sound to you like the real-life Dexter?
Season 8 of "Dexter" is expected to premiere sometime in 2013.

Actually Miguel Prado sounds like and homage to Pardo but Dexter is different. For one thing Pardo killed the dealers because they had 1) drugs, and 2) money, both of which Pardo wanted. Both money and drugs are irrelevant to Dexter. Clearly, Dexter is not Pardo. Their motivations are completely distinct.

It sure sounds familiar, being based out of Miami and all the other information, it's pretty darn close.  I think they're starting to ruin the "Dexter" series, just like they did with several others like Soprano's, ect.  It's too bad, it was a good show, I guess they've just run out of things to write about.
Are you sure you want to delete this comment?