On Set With the Cast of 'Partners'
CBS' new comedy takes on bromance, romance and boundaries
CBS' new sitcom "Partners" continues to tackle the balance between bromance and romance on Monday, Oct. 1. MSN TV went on set to watch stars Michael Urie (Louis), David Krumholtz (Joe), Sophia Bush (Ali) and Brandon Routh (Wyatt) in action and find out how this new series from the creators of "Will and Grace" will evolve.
Bing: More about "Partners" | Watch more clips and episodes
The "Partners" premiere saw gay Louis almost foil his best friend Joe's marriage proposal and then repair the damage by dropping to his own knee to re-propose. In Monday night's episode, "Chicken and Stuffing," Louis tramples into even more personal territory after deducing that his newly engaged BFF isn't getting any action.
"That episode is pretty ridiculous," Krumholtz previewed. "Louis somehow thinks it's appropriate to go tell my fiancée that she needs to start rocking my world more."
Plus: TV's creepy smilers | TV's top secrets revealed
Clearly, not appropriate. Even worse, after promising to steer clear of the couple's business, Louis again intercedes when he learns Ali hasn't been heating things up in the kitchen, either. You can imagine how that goes.
"What woman wants to be criticized about sex and cooking?" Bush panned. "There's nothing more inappropriate, but it's perfect Louis and even though we'd both be reluctant to admit it, Louis' meddling actually helps us."
Helpful or not, the conflict and the laughs come from this group's effort to redefine boundaries as life moves on.   
"Louis has always been the XO (Executive Officer), the second in command, of Joe's life," Urie explained. "Now, all of a sudden, Ali's the XO and he's demoted to I don't know what - ship's doctor? It doesn't sit well with Louis. Even though he's happy they're together, he didn't realize it was going to put his world into a tailspin."
Louis will get better at sharing Joe, but that doesn't mean he's going to become more levelheaded or less involved.
"He'll meddle anywhere and say anything to anyone he talks to," Urie warned. "He always leads with this heart, even if it gets him into trouble - and it does every episode."
Louis won't be the only bro getting in trouble. 
"As the series goes on, we're going to see more of Joe being a buffoon," Krumholtz teased. "It becomes about what he's not doing for her and trying to deal with being with such a hot girl. She's out of my league, and I know it. I don't want anything to ruin this, especially my big mouth."
The Fourth Wheel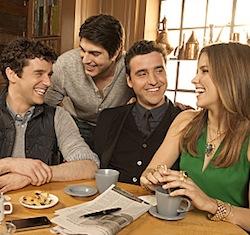 While Ali is just learning to cope with the bromance she's stepped into, Louis' boyfriend Wyatt has been juggling Louis and Joe for several years, already.
"There's always chaos that Louis or Joe stirs up and Wyatt has been the one who calms the situations," Routh explained. "As we progress, Ali and Wyatt start to team up. We sympathize with each other about how our other halves fly off the handle."
Wyatt wasn't always the grounded one in his relationship, however.
"When Louis and Wyatt first met, Wyatt was a club-hopping alcoholic: Now he's a sober, vegan nurse!" Urie revealed. "Louis was a big part of why Wyatt got sober, so at some point it was Wyatt who was tethered by Louis. It's a very interesting relationship."
Needless to say, both Urie and Routh are looking forward to shooting flashbacks of Wyatt in his heyday. They're also enjoying the fact that their characters are not solely defined by their homosexuality, and neither is the show.
"The show is sensitive to the subject matter, but not rubbing it in anybody's face or preaching about it," Routh noted. "It's there, but it's showing that this couple is just like everybody else, except for the sexuality."
This team isn't new to playing with gay reality and stereotypes. Urie made strides for gay characters in primetime as divalicios Marc on "Ugly Betty," while married Routh has played gay several times, even helping "Cold Case" earn a GLAAD nomination.
It was "Partners" creators David Kohan and Max Mutchnick, however, who forged new ground by bringing gay characters to mainstream TV success with "Will and Grace" almost 15 years ago.
"David and Max started all of this and there's no one better than them at writing multi-camera sitcom," raved Urie. "Does 'Partners' fit the same mold as 'Will and Grace?' Yes. But is it a new relationship? Absolutely. This is about a gay guy and a straight guy who are best friends, and that's all there is to it. We have not seen that.
"But we're not reinventing the comedy wheel, here," he added. "We're trying to make something familiar, cozy, classic and hilarious. The comedy we're doing is forward thinking: The format is not."
"Partners" Is All About Chemistry
Between interviews, this cast of characters didn't stop ribbing each other for a minute. One hot topic was their past experiences. Urie hammed up the hurt when Krumholtz revealed he still hasn't seen any "Ugly Betty." He then teased Krumholtz for his run as head elf in "The Santa Claus" movies, but confessed to being a huge "Superman Returns" fan. It didn't sound like anyone had seen "One Tree Hill," but Bush was more interested in showing off her Funny or Die "Mob Wives" spoof.
"It's a blessing when you get a ride like that," Bush said of her soapy ten-year run as Brooke Davis. "But nobody signs up to be an actor to do the same thing everyday. I was ready for a different format, a new challenge. I fell in love with storytelling doing theater and this is like a crazy stage play on speed."
Krumholtz insisted his onscreen fiancée has more than risen to the challenge. "When I met her a couple years ago, she did an impression of one of the 'Mob Wives' that was so funny, with great comic timing," he recalled. "This is her finally letting loose and letting out what's inside of her. She's so good. She's kind of the Elaine of our show."
For his part, Krumholtz is thrilled to return to his comedy roots after a long run as the brainy brother on "Numbers," even though it's meant relinquishing his reign as the funniest guy on set to Urie.
"If I worried about fighting him for laughs, I'd be depressed," Krumholtz admitted. "He's too funny to fight. We get our own laughs in our own elements of the show. I'm happy to play his straight man, literally and figuratively."
"Partners" airs Monday at 8:30 p.m. ET/PT on CBS.