'Smash' Bollywood Fail
The struggling musical drama goes all wrong with its take on the Bollywood musical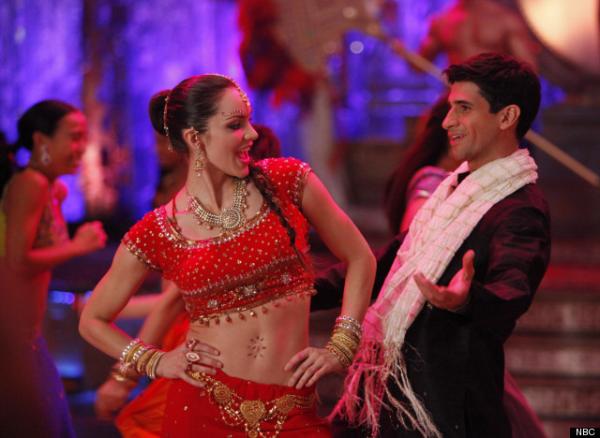 Producer-types learned the hard way in 2004 that Broadway and Bollywood don't mix with the short and struggle-filled run of the musical "Bombay Dreams." 

It seemed like a match made in heaven -- the song-and-dance, the costumes, the classic rags-to-riches tale. But the show's Broadway run couldn't do much to hold audiences. (Though it lasted two years in London.) And with the likes of AR Rahman at the musical helm, it could have been genius. Alas, it was not. 
You'd think that the producers of "Smash" would have learned from that error -- especially given that actor Raza Jaffrey, who plays Katharine McPhee's love interest Dev, starred in the UK version. Nope. You'd think, if they were going to plow forward with a Bollywood number anyway, they'd at least nab a choreographer who knew what they were doing. But you'd be wrong. And they didn't. Instead, on this week's episode, we got this horrible "A Thousand and One Nights" (newsflash -- those would be Arabian nights, complete with the possibility of a genie popping out of Tom's lamp) thing that didn't even do the easiest moves -- like the "screwing in the lightbulb," for example -- any semblance of justice. 
Missed it? I don't blame you. But if you're now dying of curiosity, here you go:
Don't say I didn't warn you. 
"Smash" airs Mondays at 10 p.m. ET/PT on NBC.