What doesn't Ty Burrell endorse?
Phil Dunphy's busy product-pitching schedule verges on overload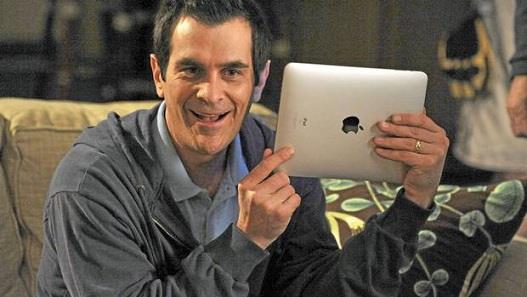 I adore Ty Burrell. That's right, adore. His underdog ascent from film and television bit-parter to Emmy-winning lead on "Modern Family" is the kind of triumph that fills overly emotional couch potatoes (e.g. myself) with ballooning sentiment. Not to mention, his Phil Dunphy is an instantly classic, lovably imperfect answer to generations of both blandly folksy sitcom patriarchs and doofily macho TV dads (ehem,

Tim Allen

). Still, Burrell's recent ubiquity between scenes of "Mod Fam" has me teetering on Ty/Phil overkill.




Bing: Ty Burrell

|

"Modern Family"




As you've probably noticed, particularly if you're prone to watching shows sans fast forward On Demand, Burrell's been awfully busy pitching myriad products in commercial spots. First, there was his unmistakable voiceover in a series of Verizon's "Once you got it, you get it!" ads. A natural enough fit, given his ABC alter ego's clumsy obsession with mastering home entertainment. Message received: If the voice of Phil Dunphy can figure it out, so can you!




Plus: 'Dancing With the Stars' cast | Shows that are signing off this year | Fantasy 'Real Housewives' cast

 

Next, Burrell popped up around the holidays, caroling folks into submission with a plea to use MasterCard as part of their philanthropic Stand Up To Cancer campaign. Donning a stovepipe hot and oozing the kind of Dunphy panache that somehow transforms pestering into charming persuasion. Plus, it's for a good cause, even if credit card companies are inherently evil and it's hard to overlook when other celebrities like

Jimmy Fallon

and

Alec Baldwin

gleefully endorse their benefits.




But as the calendar flipped to 2013, Ty materialized once more, this time encouraging a bit of therapeutic role-playing between a bottle of OJ and an actual orange to promote the pure-squeezed goodness of Minute Maid. Now, Mr. Burrell, you have simply gone too far. No amount of vintage, aw-shucks Dunphy trustworthiness is going to lull me into changing my customer loyalty from Tropi .... mmmmm, Minute Maid. 




Stupid, perfectly cast advertising.




"Modern Family" airs Wednesdays at 9 p.m. ET/PT on ABC.