'Survivor: Caramoan' exit interview: Hope Driskill
The former Miss Missouri talks strategy, Shamar and "Survivor" romance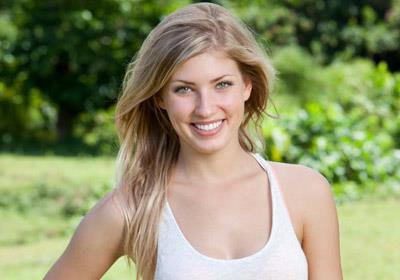 This week on "Survivor: Caramoan," the Gota tribe of newbies lost another one of their "pretty people" when they voted out Hope Driskill, a pre-law student and model, instead of the troubled and tantrum-throwing Shamar, whom most of the tribe members agreed was wearing out his welcome. So what gives? 


We caught up with former Miss Missouri Hope Driskill – currently doing runway shows in Milan – to talk strategy, tribal romance, and why Shamar's still standing.
Bing: More on "Survivor: Caramoan" | Hope Driskill
MSN TV: Right of the bat, your alliance of four was dubbed "the pretty people" by Sherri. Which is, in away, a bit demeaning, given that you're pre-law. Is that dismissive?

Hope: I was kind of disappointed every time I heard that. I got along with everyone – and that idea never crossed my mind once. But at the same time, you have to laugh it off. So that's what I've done, in hopes that other people won't take it seriously.
Video: Watch a sneak peek of 'Survivor: Caramoan'
What about all the drama about pairing off – that you were a pair of couples, implying romantic interests.

I think that was so blown out of proportion, and it's actually really interesting to watch, because in reality, there was no romantic interest between myself and Eddie. He's a goofy guy, and he's fun to be around, but there was no hooking up. He's someone that I'll be friends with, but whenever I heard Sherri say that we looked like a couple, I was laughing. I think they really exaggerated that, because they wanted to make it seem like we were an extreme threat, so the rest of them would be focused on voting us off. I think we made the others nervous, and so they kept exaggerating it, keeping it fresh in everyone's mind. But I thought, all along, that we were really a secret alliance of five. I thought early on that that we had Matt, and Matt was our secret weapon. So my strategy going in was to align myself with strong players, we thought we had Matt, and unfortunately, he demonstrated that 'Survivor' is all about making and breaking alliances, and our numbers fell short.
Photos: See the 20 castaways of Season 26 | 'Survivor': Where are they now?
What was going on with Shamar? He seemed to be getting more and more dramatic about things.
I was so frustrated with that – because I went home, while this person who didn't want to really be there, who just kept making camp life miserable, is still there. He was making his own alliance miserable. Making himself miserable. Saying he didn't want to be there, that he wanted to go home. So send him home! What is wrong with you people. I was really, really hoping right before we went into tribal council, that Laura and Julia would have switched over, but it didn't work out.

Want more "Survivor"? Check out our play-by-play recap of this week's episode.
Do you think it's Sherri pulling the strings there?
Shamar is definitely Sherri's puppet – he'll vote any way that Sherri says. And I guess in Sherri's mind, she'll keep him around as long as she needs to, then she'll send him packing. Yeah, he'll annoy everyone in the meantime, but she's calling the shots in that alliance. He's just another vote to them, one they can manipulate.
In hindsight, do you think you should have followed Shamar's hints and changed your vote so you could stick around and Eddie would be sent home?

Looking back on it, I guess I could've made the move and saved myself. But I'm a loyal person and that's how I wanted to play the game. I thought, too, that we had the numbers – I thought we had Matt on our side. The thing about 'Survivor' is, you never know what's going to happen. So it didn't work out for me this time. But I'm proud of how I played the game.
What's next for you?
You're actually catching me in Milan, Italy, where I'm modeling right now. I'll be back to the States in April, and I start law school in the fall. So it has been a big year, that's for sure. It's been really exciting.
Is there someone you're rooting for now?

Obviously, I have favorites because I'm a fan of the show and I've watched the others play the game. But I'd love to see a Fan from my tribe surprise everyone and win. I think they definitely have it tougher, because the Favorites have gone through the experience before. They've done it – they've experienced the challenges, the exhaustion, the politics of the social game. They have the edge there, so the Fans are the underdogs, for sure. And I'm rooting for them.
Would you play again?
I would love to play again. It was definitely the hardest thing I've ever done in my life. But at the same time, I went home way too soon. So bring it on!
Want more TV? Find MSN TV on Facebook and Twitter.
"Survivor: Caramoan" airs Wednesdays at 8 p.m. ET/PT on CBS.