'Bethenny' Gets Picked Up
Bravo reality star Frankel visits 'Ellen' to announce her talk show return
Former "The Real Housewives of New York" star Bethenny Frankel visited "Ellen" Monday, Sept. 17, to talk success and share a Skinny Girl tangerine vodka toast with her 
executive producer and mentor
, Ellen DeGeneres. After the success of this summer's
trial run
, "Bethenny" will indeed be returning, though it's not clear when. 
Bing: More about Ellen DeGeneres | Bethenny Frankel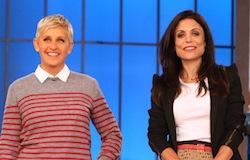 "We are not going to give a lot of details, because we can't," Degeneres said Monday. "But, it is safe to say she will be on television soon. The television show will be back on the air."
The six-week "Bethenny" test run aired weekdays in New York, Los Angeles, Philadelphia, Dallas, Phoenix and Minneapolis this summer. Thanks to her ratings, buzz was that her return to the slate was a done deal. Now, it's official. 
Since "Bethenny" won't be back for awhile, DeGeneres gave her show over to Frankel for a bit. The two got into a few "Bethenny" segments with the audience, including "Let's Go There," as seen above.   
Frankel took to the Internet later to share her excitement. 
"I cannot wait for you all to see how much fun we have everyday and how much YOU really drive the conversation," she posted on
her blog
. "Thank you all for the support this summer. I could not have done it without the help and support of YOU or Ellen Degeneres (sic)."
"Ellen" airs weekdays in syndication.