Neve Campbell joins 'Grey's Anatomy'
Former 'Party of Five' star to play Derek's secretive sister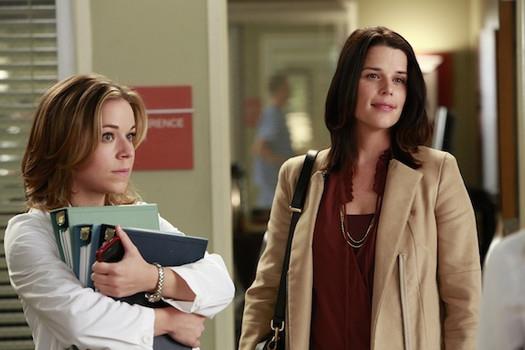 Neve Campbell is making a TV comeback of sorts.
Starting Dec. 6, the Canadian actress will enjoy a two-episode guest appearance as Derek's (Patrick Dempsey) mysterious sister Liz, according to a number of publications including THR. 
Bing: More on 'Grey's Anatomy' | Neve Campbell
The gig will mark the second time Campbell, 39, and Dempsey, 46, have worked together. The first was on the horror romp, "Scream 3" in 2000.
Details about the TV siblings' relationship are being kept under wraps, but we do know Liz, aka Lizzie, is one of Derek's four sisters. Caterina Scorsone plays another one of Derek's sisters on the "Grey's Anatomy" spin-off, "Private Practice."
Plus: Memorable moments on 'Dancing With the Stars'|  TV's changing tides
As for Campbell, the former "Party of Five" star has been taking small TV roles here and there as of late. Most recently, she costarred in the Encore miniseries, "Titanic: Blood and Steel."
"Grey's Anatomy" airs Thursdays at 9 p.m. ET/PT on ABC.
Are you sure you want to delete this comment?