Seinfeld: Grumpy, old stand-up
Jerry's 'Letterman' routine suggests he's better on the couch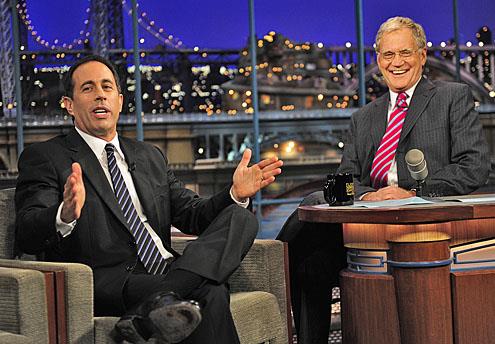 We only chide the ones we love, and it's generally for their own benefit (unless you're just mean). That's why it needs to be said that Jerry Seinfeld kind of stunk Thursday night on the "Late Show with David Letterman." 




There to promote his

online/Crackle-distr​ibuted

series of vignettes, "Comedians in Cars Getting Coffee," Jerome first treated the live audience and those watching at home to some classic

Sein-man stand-up

. After accepting a hearty ovation, the 58-year-old Long Island native reached out his arms and inquired to no one in particular, "So, what's annoying now, besides everything?" which may as well have been his, "Take my wife, please." 




Bing: Jerry Seinfeld

|

David Letterman

|

"Late Show"

|

"Comedians in Cars Getting Coffee"




The ensuing five minutes was out of touch, acerbic and exhausting to watch. Strung-together diatribes bemoaning our cultural obsessions over everything from Gatorade to one-click shopping sounded like the easily burdened rantings of a senior citizen, lacking the calm insouciance of his vintage stage persona. "Just try and catch the pieces of your face as they dry up and crack onto the floor," he suggestively sneered, sounding akin to his comrade

Larry David

 without the all-important air of rightness. 

 

 

Seinfeld closed his act with a particularly baffling treatise on the figurative concept of one's death bed, asking, "Why would you even buy a bed like that? How are you going to start feeling better sleeping in a death bed? Where is that section of the furniture store?" When his rhetorical questions have obvious answers, that's a good indication that Seinfeld's going through the motions.




Rapping with his pal Letterman on the couch, Jerry was a different personality altogether, sending up his fame and wealth and essentially playing the "Jerry Seinfeld" character he'd created for

"30 Rock."

 It's the same reason "Comedians in Cars" feels right in his current wheelhouse. Much as it's hard to swallow

Bruce Springsteen

still earnestly writing songs from a blue-collar perspective, Seinfeld's no longer a quintessentially dry, incisive voice for the mundanely disaffected. He's a rich guy with lots of cars and interesting friends, and he's much more endearing when exploring what's so funny about that.




"The Late Show With David Letterman" airs weeknights at 11:35 p.m. ET/PT on CBS.