Anthony Geary's 'General Hospital' Casting Wish List
Luke weighs in on which Port Charles veterans he'd like to see come home
"General Hospital" has seen some fantastic casting returns of late, and executive producer Frank Valentini told MSN TV that this is just the beginning. With almost 50 years of characters to choose from, seven-time Daytime Emmy winner Anthony Geary (Luke) weighs in on which Port Charles veterans he'd like to see come home.
Bing: More about "General Hospital" | Anthony Geary

September has already been rocked by the returns of Port Charles favorites Sebastian Roché (Jerry Jacks), Ingo Rademacher (Jax), Ian Buchanan (Duke Lavery) and Kristina Wagner (Felicia). As fans know, Buchanan's Duke is believed dead by all in Port Charles and his recent reappearance revealed he's not only alive, but has "dead" Robin (Kimberly McCullough) in his mitts. He'll really get into the action in October. 
Interestingly, soap hopper Sean Kanan is also returning to canvas, starting Oct. 29, leading to much speculation about what role he'll be playing this time - His character A.J. Quartermaine was killed off almost 20 years ago. Or was he? 
Plus: Shows that are ending | Fall TV's familiar faces | Fall TV premiere dates
With Valentini teasing that more veterans will make their way back before the show's 50th Anniversary in April, MSN TV asked Anthony Geary for his wish list. A cast member on and off since 1978, he was reasonably overwhelmed by the options.  
"Wow. That's a tough one, because there's been so many great characters through the years," Geary hedged, taking a beat to think about the question.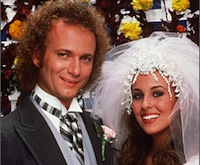 At the time of our chat, Genie Francis was still on contract on "The Young and the Restless," but everyone suspected she'd be let go amid the changes happening on that show. Since Valentini admitted he'd "absolutely" want her back if that came up, we couldn't help but suggest the reunion of soap opera's biggest super couple, Luke and Laura. 
"Of course I love Genie. She's my acting soul mate," Geary said. "I'd love to see her back, but it would have to take in all of our history - including what's happened since the heyday. Whether they were ever to be linked up again, I don't know. When people are happy in relationships, the story ends. The fans want people together, but once you're together, they get very bored with you, unless there's a lot of conflict. It's all about the writing. How is it going to be revisited?"
Geary might just get to find that out now that Francis is officially back on the market!
With the juices flowing, Geary's wish list started building. 
"I always loved Sharon Wyatt as Tiffany," Geary started. "I loved her, her character and what she did to it. She was a flamboyant, over the top character - operatic, like mine. 
"I've always said, I prefer the opera to the soap - those extreme characters and circumstances," he continued. "I'm thrilled to have Robin (Mattson, Heather) back. She manages to be creepy and funny at the same time, which is really amazing. They wrote her beautifully, with this Machiavellian madness.
"I'd like my son Nathan Parsons, who plays Ethan, to come back," he added. "From the old days, I love Kin Shriner. He played Scotty Baldwin. I loved our relationship."
Jackie Zeman's Bobbie Spencer also made the list. "I miss her, terribly," Geary revealed. "I loved working with her."

As we parted, Geary's mind was still churning. "Golly," he huffed. "I'm probably going to think about this all day and come up with other characters, because a lot of great actors have come through that show."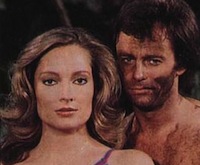 Just about anyone on Geary's wish list could get tapped by Valentini, but Wyatt is the least likely. The '80s soap fave has been battling osteonecrosis, bone death disease that led to having half of her jaw removed in 2011. In March 2012, Wyatt was recovering from hip surgery, one of the surgeries required to rebuild her jaw. When Wyatt is back to full health, fans may get to see her in Port Charles again and MSN TV is among those who'd love to see that happen. Soap operas aren't the only place medical miracles happen, after all! But it sounds as though Wyatt has a long way to go still. (Watch this "Inside Edition" clip from June 2011 for more on her condition.)
In the meantime, stay tuned to see who gets tapped for a return next. 
"General Hospital" airs weekdays on ABC.