Caesar is coming to 'Spartacus: War of the Damned'
Executive producer discusses the arrival, historical accuracy and more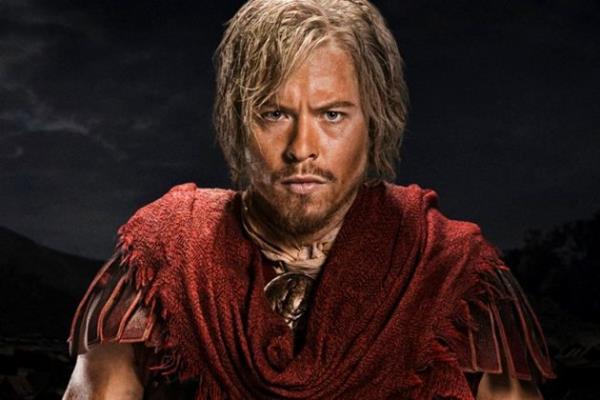 Ever since the news broke Caesar was coming to "Spartacus: War of the Damned," fans and critics alike have been talking about it.
Some wondered if it was historically accurate for Caesar and Spartacus to meet while others discussed the possibility of a Caesar-driven spinoff. Aussie actor Todd Lasance is playing Caesar, an adversary of Spartacus (star Liam McIntyre). "Spartacus: War of the Damned" is the final season of the series and premieres Friday, Jan. 25, on Starz.
SPOILER: Caesar will make his grand entrance in the second episode.
Bing: More on 'Spartacus: War of the Damned' | Liam McIntyre | Todd Lasance
Steven S. DeKnight ("Smallville"), one of the executive producers behind "Spartacus: War of the Damned," said Caesar would've been around during Spartacus' rise to fame and because of that, is the perfect villainous foil.
Plus: Ugliest designs on 'Project Runway' | 15 actors to Kevin Bacon | Births on TV
"We knew historically that Caesar of this time period was very much the order and he was a fighter," DeKnight said during a recent teleconference. "He was fighting in foreign wars, and he had this fantastic Julian name, but he was also broke. And those elements really matched well with Crassus (Simon Merrells). We were also very interested in seeing those early days of Crassus and Caesar, before they joined together with Pompey and overthrew the Republic."
"We thought that would be a really great story to tell," DeKnight said. "And you usually don't see that side of the story in movies and television shows about Caesar. It's usually after they've overthrown the Republic. And there are historians that thought it was probable that Caesar was part of this campaign against Spartacus and more than likely served under Crassus."
While history is on their side, for the most part, everything on the show regarding Caesar is embellished.
"So that gave us just enough to hang our (sort of) hat on," DeKnight added. "That said, everything in the show with Caesar is fictional. Although we do frame it with actual events from his past and we make references, very sly references, to what's coming in the future for Caesar." 
DeKnight didn't address rumors of a spinoff. But that will likely depend on how well Caesar is received by fans and how the ratings shape up.
"Spartacus: War of the Damned" debuts Friday, Jan. 25, at 9 p.m. ET/PT on Starz.