'True Blood' Talking Points: iStaked
10 major 'True Blood' plot points you need to know to get by at the water cooler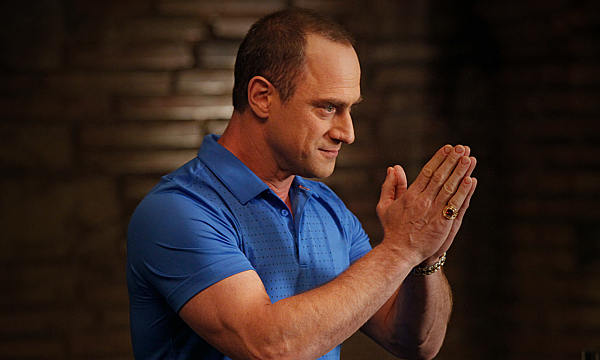 "True Blood" this week picked up right where we left off last week – with the discovery of an undead and well Russell Edgington in a loony bin stocked with humans for food. 
Bing: More on "True Blood"
This week, the confrontation was getting ugly – with Russell and a random pack of wolves taking on Alcide, Bill and Eric before the ancient vampire had a go at everyone's favorite beverage, Sookie Stackhouse. "You're just what the doctor ordered," Russell said, before noting that he hated when she used that fairy light on him, which she did. Eric stepped in, and was about to take Russell out when Bill came up from behind, ready to stake his partner-in-crime. He reminded Eric that if they killed Russell, they were dead men. You'll recall their mission from the Authority? Yup.
Of course, that's when the Authority minions showed up themselves, ready to take Russell and the boys back in. But first, there were a few humans and other beasts that needed glamouring – like Sookie and Alcide. When Eric glamoured Alcide, he also mentioned that he should protect Sookie with his own life – and have no sexual interest in her whatsoever. Bill, meanwhile, told Sookie she needed to live her life with others like her – humans. As for Doug and the other sacrificial humans, the Authority minion wanted to probe them for more information about the traitor that had saved Russell. Doug and the others asked to be glamoured. Instead, they were slaughtered.
Luna and Sam were brought bullet-ridden to the hospital, where they seemed to be recovering. Sam said that the masked strangers that shot at them were human.  Meanwhile, little Emma, transformed into a wolf cub, went running to her grandma. Her grandmother brought her to the hospital. "She came to me as wolf," Martha told Luna. "I'm her grandmamma, there's a piece of my boy in her. I only want to be a part of her life." So Luna asked Martha to keep her safe while they figured out who was after the shifters. Sam talked to Sheriff Bellefleur, saying he needed to be in on solving this case – or he'd do it on his own. Bellefleur went a sup-killing supply store, where he questioned the redneck owner. The owner, suspecting foul play, was about to shoot the Sheriff when Sam got the guy with an arrow instead. 
At Fangtasia, Tara and Jessica were still fighting furious over Hoyt, but Pam was pissed and reminded Tara that she was pretty much her slave. Then Hoyt confronted Jessica. "You know what? You still care about me. You don't want to be in love with me, but you are." But Jessica told him they were over. And she told him the fang-banger thing wasn't working for him. Later that night, he almost got himself drained as another vamp nearly sucked him dry – but those masked men in the Obama heads shot the guy. Apparently they knew Hoyt, too, because they recognized him when they picked him up. 
In the car, Alcide couldn't figure out where they were or where they were going, and Sookie was bawling – the effect of Bill's speech. The next morning, Alcide woke in Sookie's bed, but she wasn't there. He recalled them hooking up before Bill and Eric showed up. So Sookie showed him exactly what went down. And he was pissed. Alcide went to his pack, demanding an explanation of their plotting with Russell. JD, the new pack leader, was on V, and bringing the whole pack down with him. So Alcide said he was accepting the role of master of the pack. When JD said he was the new master, Alcide told him he'd challenge him. He needed a second, though. And he got one. Some feisty chick who was no doubt about to give Sookie a run for her money. 
Lafayette went to go see his Mama, Ruby Jean, at the care center. She told him Jesus came to her. "He in trouble. He come here last night. Somebody stitched up his lip, but he want to talk to you." She told him that Jesus was with a bad man – Don Bartalo, the one who made him drink goat blood. "Jesus loves you, Lala, don't you forget that," she said in a parting note. "Jesus loves the little faggots." Sheesh.
Jason woke from his slumber to find his father sitting on the edge of the sofa. He was getting all mushy. But then he said, "I swear to God, and to you both, that I'm going to find that vampire that killed you, and I'm gonna make him pay." Then his father spoke: "The only thing you need to fear is…" That's when Pops disappeared. Meanwhile, at Merlotte's, Sookie complained that men were dogs to Holly and Arlene. That, of course, is when Jason showed up. He told her that he saw Hadley at the fairy nightclub and she said that vampires killed their parents. Sookie asked him to take her there. But he said he didn't know quite where it was, but Sookie found it. Hadley was there. And Claud, the guy who helped Sookie escape last time. He told them Hadley was free to leave, but she didn't want to. She felt safe there. Claude also told them that a vampire had ambushed their parents, drawn to the vehicle by something in their car – and band-aid with Sookie's blood.
Terry and Patrick watched as their old pal Eller went up in flames – and saw the ifrit that got him. Patrick reminded him that they needed to have each other's backs, now more than ever. "We are cursed and there's no escape from it," Terry said. "You ordered me to do something evil. And it's gonna get me killed. You, too, you stupid SOB." He was already mourning all he was going to lose. Arlene, the kids, Mikey. "I knew it was too good to be true." He went to Merlotte's to talk to Arlene. "I'm cursed," he told her. She said there was no such thing. But Terry said he'd killed the woman – he knew it was wrong, but he did it anyway. So he said this was good-bye. "If I stay with you, you will die. And so will the kids." So she said what she had to: "Then you need to go."
At the Authority headquarters, Eric and Bill faced the council, who welcomed them warmly. Molly even removed their iStakes. Chancellor Salome had been interrogating Russell, but he hadn't spilled on the traitor. Roman arrived, boisterous and happy, in a Nike shirt, celebrating with a fancy antique blood, 18th century Austrian. "You two have delivered," he said, "and because of that, you have saved many, many lives, human as well as vampire." Salome said she would go interrogate Russell again – but Roman said Russell would be executed. That very night. So Salome suggested she bring him there after another dose of silvering. Sure, Roman said, and set up an iStake. He didn't want it to be messy.
Eric went to go see Nora -- and that's when Salome came to say they were executing Russell. But instead of freaking, Nora said it was all finally happening: "God's plan, made manifest, by her. Thank you Lilith!" Turns out it wasn't Nora who'd released Russell at all. It was Salome. And her plan to unleash Russell on to the Authority was in full effect. At the headquarters, Russell spewed about loving to drink human blood, that it got him hard. Then Roman countered with some humanity and mercy and peace bull. At the pinnacle of his speech, he pressed that little button, the one that should have iStaked Russell, finishing him once and for all. But the stake did not trigger. Instead, Russell attacked Roman -- and staked him.

"True Blood" airs Sundays at 9 p.m. ET/PT on HBO.