Lindsay Lohan Brings Her Playboy Issue to Daytime!
Ellen DeGeneres lands the LiLo interview
With her Marilyn Monroe-inspired Playboy shoot set to hit stands this month, Lindsay Lohan is coming to "Ellen." Word is LiLo will debut her semi-nude spread and discuss her recent legal and personal battles when she checks in with Ellen DeGeneres for the segment, airing Thursday, Dec. 15. Maybe she''ll even share a few morgue and prison tales and come clean about whether or not she really received $1 million paycheck to strip down for Playboy.
Bing:
More about Lindsay Lohan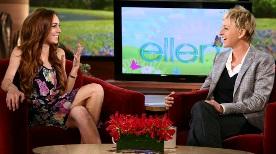 Last time LiLo visited "Ellen," back in April 2009 (see clip above), she spoke to the wild breakup rumors that surrounded her and former girlfriend Samantha Ronson. Lohan also revealed that she wanted to get her "career back in shape."
Bing
:
Watch clips and episodes of 'The Ellen Show'
Unfortunately, that didn't pan out as well as she'd hoped. Two and a half years later, Lohan still can't seem to get ahead of the legal drama and bad press stemming from her 2007 DUI.
Lohan was last set to plead her case to daytime audiences last June, but she
didn't come out of her room after Matt Lauer flew all the way to Malibu
for the interview. The diva did show up for her visit "The Late Show with Jay Leno" a few months back, but she's been keeping a low profile since her last legal scuffle sent her to prison for a micro-stint. That may all change now that her Playboy issue is hitting stands, especially if there's any truth to the rumors that she's signed on to "Celebrity Big Brother" in the UK.
"Ellen" airs weekdays in syndication. Lohan's segment is set to air Dec. 15.