Showtime's 'Dexter' Party Full of Fun and Gifts
Cable network promotes seventh season with a splashy shindig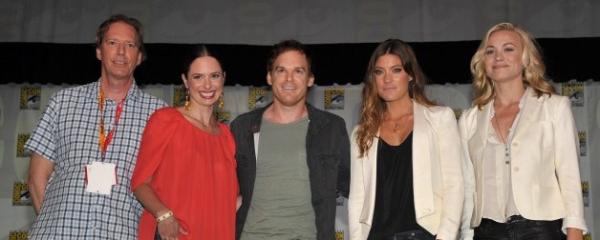 After a lively and fun panel at Comic-Con, Showtime ended the night with a party at San Diego's Omni Hotel filled with beautiful people, tasty food and irresistible gift bags.
Bing: More on 'Dexter' season seven   |  Michael C. Hall
The gift bags, which included a "Dexter" T-shirt, ear buds and season six on Blu-ray, were so sought after some partygoers greedily snatched up as many as they could Thursday night.
But that wasn't the only buzz at the soiree. People were also whispering about the serial killer drama's newest cast addition, Yvonne Strahovski of "Chuck" fame. Even more stunning in person, the 29-year-old actress caused quite a stir outside the hotel upon her arrival.
Apparently her limo was stuck in traffic so she hopped out and ran to the hotel's entrance, which caught the attention of a cluster of star-crazed fan boys and girls, who took chase and mobbed Strahovski as fast as they could.
Plus: Comic-Con 2012  |  Fate of your favorite shows
Thankfully, the Aussie was unharmed and made it into the party where she celebrated in the velvet-rope partitioned VIP section.
The star of "Dexter," Michael C. Hall, made a quick appearance and then split -- he's still shooting -- but not before posing with an awesome sketch of his character adorned with knives.
As for the rest of the revelers, they noshed on pasta and salad, sipped drinks at the open bar and danced to Top 40 music on the suite's terrace. What a great way to end the first official night of Comic-Con.
"Dexter" returns for a seventh season Sunday, Sept. 30, at 9 p.m. ET/PT on Showtime.