Kelsey Grammer Bolts From Piers Morgan Interview
What did Camille have to do with it?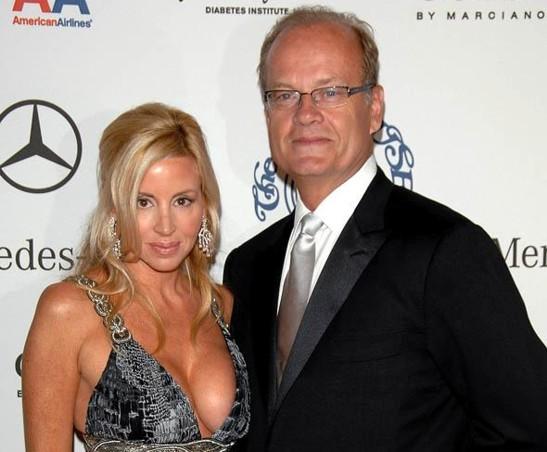 How much does Camille Grammer still get under her ex-husband's skin? Wednesday night, Kelsey Grammer walked out on a scheduled interview with CNN host Piers Morgan just because a teaser for the interview flashed a photo of the "Real Housewives of Beverly Hills" star.

Bing: More about Kelsey Grammer | Piers Morgan
"This was a shockingly unprofessional thing to do," Morgan tweeted later. "I wasn't even going to mention his ex-wife!"


Morgan noted that he chatted with the former "Frasier" star backstage, where he "said he was really looking forward to the interview." Apparently, that was when he was under the impression that it would focus on the second season of his new Starz series, "Boss," not his famous third ex-wife.
Plus: Geeking out on 'The Office' | TV shows for TV snobs
A spokesman for Grammer -- who doesn't have a Twitter account -- told the Hollywood Reporter that Morgan "needs to take responsibility for what he did to Kelsey," adding that "it's called accountability."


Typically, it's others who do the walking out on Grammer. For instance, Camille, his wife of 13 years, filed for divorce in 2010. Since then, Kelsey, 57,  has wed, and reproduced with, a 29-year-old Virgin Atlantic Airways flight attendant named Kayte Walsh. But the subject of Camille is still a sore one, with Grammer reportedly refusing to even speak her name during interviews.

"Piers Morgan Tonight" airs weeknights at 9 p.m. ET/PT on CNN.

Funny with all the come backs he's had on his Fraser show he must be at a loss of words. No woman or man could possibly live with some nut who dwells on syco bable all the time it gets old fast. Should have done what Art Bell did 30 days after his wife died, he went to  the phillipines and bought a teen that can't speak english very well.

Who says he is this or that.  All I know is that he has turned his life around from the early days.  Spend more than 10 minutes with Camille and I'M SURE YOU WILL FIND OUT THE REASONS FOR THE marriage failure. I'm sure she is an OK person.  C'mon people have problems. Everyone does.  
it was blatant that the writer is not a fan. "   Hence the line---Since then, Kelsey, 57,  has wed, and reproduced"  
Get over it and pick on the Kardashians.  They need help!
Are you sure you want to delete this comment?