Oprah Winfrey to Visit 'CBS This Morning'
Former daytime queen gets up early for BFF Gayle's show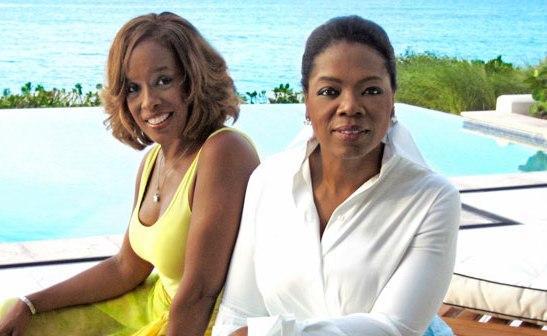 Oprah Winfrey is returning to daytime. But this time, she's getting up early and showing up as a guest. The former queen of talk will make her first visit to "CBS This Morning" Monday, April 2, for a live sitdown with co-hosts Charlie Rose, Erica Hill and Gayle King, Winfrey's longtime BFF, who left OWN for CBS. King is also Editor-at-large of O magazine.
Bing:
More about Oprah Winfrey
|
"CBS This Morning"
The announcement from CBS promises a "candid conversation" in which Winfrey talks about everything from the battle to keep her OWN network running, to her Leadership Academy and life after her daytime talk show. Winfrey is in New York for a live taping of her "Lifeclass" series, which is in its second season on OWN.
"CBS This Morning" airs weekdays at 7 a.m. EST/PST on CBS. 
All want to know is if this woman is Saved by the Blood of Jesus Christ. I want to know if they REPENT when they sin, after being Saved, if they are Saved now. I want to know if they read their Bibles daily, pray to Jehovah God daily (there is NO OTHER GOD). I want to know if they attend a christian church every week. If they give 10% of their money to Jehovah God. I want to know if they witness to others about Jesus Christ. If you don't want to ask those questions of all your "idols" you worship here, wonderwall, I guess I will have to keep on coming here and asking, whenever I see another meaningless article that has NO bearing on ANYTHING important, you know like Heaven or Hell?
Oprah would be a great choice for the character of JOJO!
Now that would make a great movie even better!
Atlanta Police Detective Raphael Alfredo Garcia, an openly gay cop, has made a deal with the devil; at least in his mind William T. Maxwell was that. In the mist of police corruption and a drug war between two Cartels, the fates of 13 children are held in the balance. With no one he can trust, he places his career and his life in the hands of a man of mystery…Can the detectives, one with a badge and one without, save the children from a fate worse than death?
You just have to read this book!
Get your FREE E-Book" The Maxwell Depositions", just Google or Bing the title.
Are you sure you want to delete this comment?