Gina and Pat Neely: Too Hot for TV?
The Food Network chefs like to heat things up in the kitchen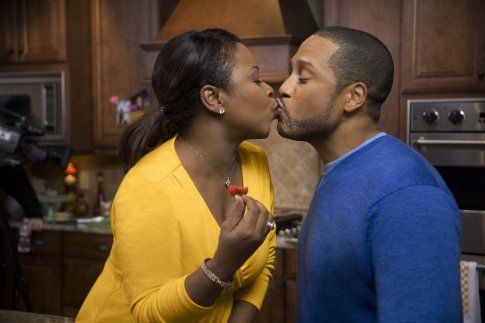 Okay, so it's not quite food porn -- and I mean that in the punniest way. But is it just me, or are the Food Network stars Gina and Pat Neely turning up the heat a bit too much in the kitchen?
The BBQ-slinging duo, who star on the Food Network's "Down Home With the Neelys," are all about cuddling and canoodling in the kitchen while they fry up some chicken or doughnuts or anything else they can coat with a nice crispy layer of bread crumbs. (They're from the Paula Deen side of things, rather than an Elie Krieger, say.) All well and good -- and kind of cute, really -- but lately the pair have taken to what comes off as so much verbal foreplay as they get things started in the kitchen.
Maybe fine for some latenight munchies, but really, Food Network, do I need to hear Pat Neely say, "Gina's been melting my chocolate for more than ten years now" or "She's one hot little chili pepper" as they seductively dip their hands in whatever they're mixing up, sort of a la "Ghost" and the pottery wheel, at 5:43 on a Monday afternoon. (Why I'm watching Food Network marathons in the middle of a weekday afternoon is different story, which I'll save for another day.)
The long-married  couple, who run a chain of BBQ joints in Tennessee, are business partners and parents to two, so it's nice to see that they still enjoy each other's company in the kitchen. Maybe inspiring, even. After all, who doesn't want to, uh, stir things up every once in a while? But perhaps it would be best for the Food Network powers-that-be to slap a PG label on the show for those watching with impressionable chefs-in-training.