Jamie Dornan returns to 'Once Upon a Time'
Actor who played the Huntsman makes a comeback shrouded in secrecy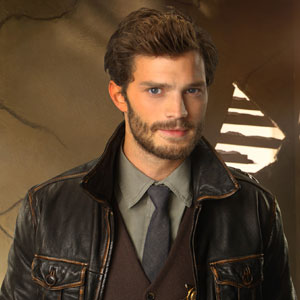 The last time fans saw the Huntsman (Jamie Dornan) on "Once Upon a Time," Regina the Evil Queen (Lana Parrilla) had crushed his heart and seemingly killed him.
But apparently, the Huntsman is not so dead and he'll be returning to the hit ABC series in March, reports Entertainment Weekly.
Bing: More on 'Once Upon a Time' | Jamie Dornan
But how is this guy alive still and will he be the Huntsman Emma (Jennifer Morrison) and the show's fans came to love? Creators Adam Horowitz and Edward Kitsis won't say much.
Plus: TV's break-out stars | Canceled or renewed
Kitsis said the episode will include "an exciting reveal" about the Huntsman and Horowitz added that "It's always important for us to not repeat ourselves." Whatever that means.
Horowitz also said fans can expect Emma to be more royal by the end of Season 2. "(Emma's) fairy-tale heritage ... is going to play a larger role," he said.
"Once Upon a Time" returns Sunday, March 3, at 8 p.m. ET/PT on ABC.