In Defense of 'The Newsroom'
A less cynical view of Aaron Sorkin's oft-debated HBO drama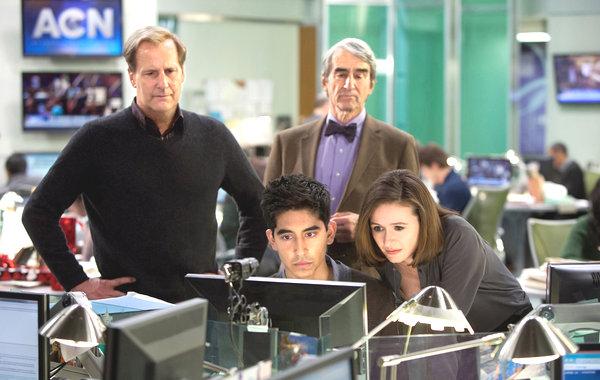 People sure are choosy when it comes to Aaron Sorkin. The suburban New York-bred screenwriter and producer once could do no wrong on the small screen, whether it was ABC's prematurely nixed ESPN satire

"Sports Night"

or NBC's long-running Oval Office soap

"The West Wing."

And, surely, most of us can agree that

"Studio 60 on the Sunset Strip"

was an ambitious misfire. Still, the widespread allergic reaction to his

broadcast-journalism​

saga, "

The Newsroom

," came as something of a surprise, especially considering hosannas for his recent cinematic adaptations,

"Moneyball"

and

"The Social Network." 




Bing: More on "The Newsroom"

 |

Aaron Sorkin




If there's one thing no one would accuse Sorkin of, it's creative inertia. "The Newsroom," like every one of his past pet projects, is a hyper-literate, snappily paced exercise in humanizing pertinent current events with classic screwball comedy and relationship psychodrama. Unlike "Sports Night" and "West Wing" in particular, "Newsroom" airs on HBO in 2012. That context alone makes it vulnerable to comparatively untenable critical expectations, accusations of being comically out of step and, as many assailants would have us believe, possibly amounting to pie-eyed, offensively broad wish-fulfillment. 




Those detractors' concerns aren't entirely without substance. "The Newsroom" is old-fashioned, and it is a fantasy. Depending on your perspective, these also happen to be two of its most appealing attributes. It's difficult to pinpoint when someone writing fictional characters and scenarios loosely based on actual events for a digitally rendered communicative tool called television became accountable not only for adhering to some arbitrarily determined "realism" but nobly articulating the sociopolitical ethos of its audience. 

 

 

It most certainly coincides roughly with the rather sudden, virtually unilateral legitimizing of original cable programming over the past half-decade. Long gone are the days when Home Box Office would dare broadcast goofy half hours like

"Dream On"

or AMC function merely to re-run

"Rambo"

 with smothering commercial interruption. Now, premium and basic-package networks alike are held to some kind of unattainable, post-

"Sopranos"

/

"Wire"

/

"Mad Men"

/

"Breaking Bad"

standard of theatrical excellence, even if those series are often assessed with blinding bias. It's also no coincidence that, during this same period, the volume of mercenary online TV analysis became deafening, and the tone unexpectedly more professorial. 




So, despite its content being incredibly timely, "The Newsroom" finds itself an overly scrutinized variable in some loosely assembled pop-cultural experiment. It's as if the show and its creator were boob-tube Neanderthals thawed and prodded to help demonstrate the link between a medium's simple past and contemporary sophistication. What's being missed amid all this is a flawed but riveting weekly hour that rivals network peer

"Real Time With Bill Maher"

 for hyper-intelligent information overload, even if watching each episode requires cherry-picking what insights are useful to our own understanding of global incidence. 




Yes, "Newsroom" is more than a bit clumsy at least half the time with its interpersonal hijinks, and the characters' -- male and female -- blustery disregard for their own privacy and self-respect can be painful to watch. But it can also be quite funny. And

Emily Mortimer

,

Jeff Daniels

,

Sam Waterston

 and, most surprisingly,

Kelen Coleman

(who you may recall as Dwight's unlikely lover on

"The Office"

) are acting their butts off with material that is by turns challenging to dignify and difficult to command (see:

Olivia Munn

). Both the newscasts that fictional ACN produces and "The Newsroom" itself walk a tightrope between highly functioning depth and neurotic chaos every Sunday. Watching Sorkin and his staff, as well as the people and scenarios they've manufactured, navigate that paradox doesn't have to be an over-thought strain. It can be, and is quite often, exhilarating. 




But there's no denying that "The Newsroom" operates at its most thrilling highs when getting down to the business of reporting on breaking news (and, of late, the higher-level corruption that jeopardizes what remains of its credibility). The series is often taken to task for whitewashing how Osama bin Laden's assassination and Gabrielle Giffords' shooting, among other recent hot-button moments, were reported in the media with some conveniently idealized daydream of how Sorkin himself would have done it if he were in CNN, FOX News and others' desk chairs. And those characterizations are basically right. And so what? Sorkin's responsibility isn't to shine a light on what we already know about how television news operates. 




Rather, it's his inclination to isolate recent history and explore a Dickensian fantasy of what might happen if an ethically compromised, complacent cable anchor (Daniels) were roused to conscience and compassion by a persistent circle of incredibly patient colleagues. Moreover, anyone who's worked in a newsroom -- be it a marginally circulated local flier, 21st century corporate HQ or

show advocate Dan Rather's CBS studio

 -- can attest that "The Newsroom," for all its acknowledged problem areas, is an absolutely accurate portrayal of the stressful and significant considerations that get passionately sorted before sharing facts and points of view with the public. And, yes, by doing so, it implicitly mourns the absence of fundamentals in much of modern journalism (which is also the intent of the unfairly mocked opening-credits sequence, as opposed to the common gripe that it's a masturbatory paean to the glory days of 20th century Caucasian male icons). Not to mention it makes for damn exciting, consequential TV that makes the strongest case for remaining optimistic about its continuation.




Sorkin has stated that he's retained a larger network of industry advisers for Season 2, and like anyone who's ever made any show ever (including

David Chase

,

David Simon

,

Matthew Weiner

and

Vince Gilligan

), his first attempt at attaining a certain creative vision didn't arrive perfect on delivery. Nor will "The Newsroom" ever satisfy the demands of every partisan observer and citizen activist, let alone the average apolitical American tuning in. But based on what we've seen leading up to this Sunday's Season 1 finale, being more idyllic than ideal has been its only major offense. This also suggests it's at least provoked even when it hasn't amused. And for some of us, Sorkin has managed to provide a qualitative experience on both levels with reasonable consistency. Which is more and, in some ways, less than we hoped for, and all what makes "The Newsroom," and the controversy that surrounds it, such fascinating television.




"The Newsroom" Season 1 finale airs Sunday, Aug. 26, at 10 p.m. ET/PT on HBO.