Tony Goldwyn talks 'Scandal' sex scenes
President Fitz visits 'Anderson Live' and goes between the sheets
"Scandal" star Tony Goldwyn visited "Anderson Live." During his sit down with Anderson Cooper, airing Wednesday, Jan. 30,
Goldwyn opened up about the reality of playing those steamy sex scenes with leading lady Kerry Washington (Olivia).
Bing: More on "Anderson Live"  | "Scandal" | Video: Full episodes and clips

MSN TV recently talked to Goldwyn and Bellamy Young (Mellie) about the first family and the Olivia love triangle. As fans of "Scandal" know, however, President Fitz and the First Lady don't have any sexy scenes. In fact, it's hard to imagine how Mellie even got knocked up.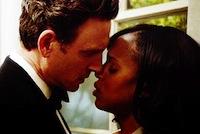 The President and Olivia, on the other hand, share a steamy, forbidden love and during Goldwyn's visit to "Anderson Live," guest co-host Jane Velez-Mitchell wanted all the dirt on shooting those sex scenes. They may look hot, but Kerry Washington once described shooting them as a "nightmare." 
"People keep reminding me of that," Goldwyn quipped on "Anderson Live." "It's just the weirdest. I mean Kerry and I look at each other and say, 'Can you believe what we do for a living?' It's just bizarre doing love scenes and naked scenes. But we're professionals and I must say Kerry and I, we just throw ourselves into it."
Also: 'Game of Thrones' Season 3 photos | 30 rockin' '30 Rock' moments
"It's harder for women," he added. "I think it's easier for a guy because you have 60 large men staring at you while it's happening, so I just feel like I am in a locker room or something. It's tougher. Women I think are more vulnerable."
Anderson and Velez-Mitchell also questioned whether the sex scenes were improvised or scripted. Goldwyn seemed to suggest that while there are choreographed steps, setting the tone is more important than hitting their marks.
"You want to talk through what is going to happen pretty specifically," he said. "What that enables you to honestly is relax and then just play the scene. So what we tend to do is decide the tone of it, what's important to us and then it does take on a life of its own when you're in the scene, it does have an improvisation and hopefully it feels real."
"Anderson Live" airs weekdays in syndication. "Scandal" airs Thursdays at 10 p.m. ET/PT on ABC.