'Breaking Bad' Casting News, New Trailer
AMC continues to tease endless goodness in advance of Season 5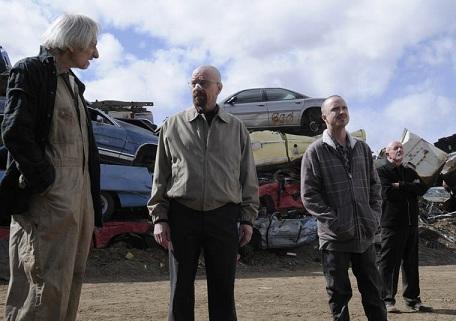 When a show can stir primal excitement despite being deafeningly hyped, it's probably onto something special. That's no easy trick in an era of blog-commentary saturation and "prestige" cable TV. "Breaking Bad," however, might just be that series. 
To wit, it's doubtful any fans kept their cool after seeing these
Season 5 sneak peek photos
, which not only portend the certain return of hitman Mike (
Jonathan Banks
), but suggest that Walter White's (Bryan Cranston) DEA agent brother-in-law, good ol' Hank (
Dean Norris
), is out of his wheelchair and back on the prowl.
And now, the network's unveiled a fairly substantive 30-second trailer (viewable below) with previously unseen footage from the impending season, all of which further reinforces that Walter is the greater Southwest's new kingpin and bully. 
Adding to the anticipatory frenzy is "Breaking Bad" mastermind
Vince Gilligan
himself, who told 
Entertainment Weekly
 yesterday afternoon that reputed Scottish actress 
Laura Fraser
 is entering the mix as a former associate of
(SPOILER) 
dispatched kingpin Gus Fring. 
Alas, with great power comes equivalent responsibility for Walter, aka the meth manufacturer formerly known as a mild-mannered chemistry teach. Fortunately, our only obligation is to sit back and be entertained.
"Breaking Bad" Season 5 premieres  Sunday, July 15, at 10 p.m. ET/PT on AMC.
Are you sure you want to delete this comment?