Behind the scenes at 'Fashion Star'
Season 2 makeover brings new team mentality, new host, new buyers and new catwalk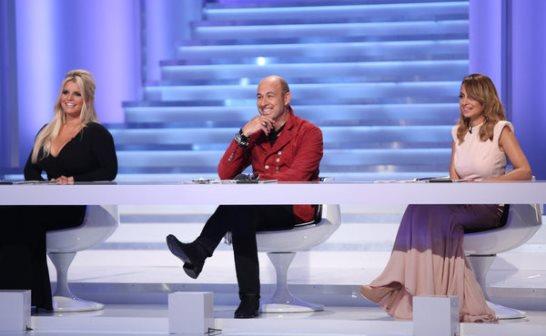 By Deanna Barnert
Special to MSN TV
Jessica Simpson, John Varvatos and Nicole Richie are back for another round of "Fashion Star" and this time, the mentors are in it to win it. While the basic pattern of NBC's designer competition remains the same, there have been a few notable alterations for the sophomore season -- including a new host. MSN TV was invited to the set to find out what's in season with "Fashion Star," premiering Friday, March 8, at 8 p.m. ET/PT on NBC.
Bing: 'Fashion Star' | Video: 'Fashion Star' clips and more
"It's a whole new game," executive producer Ben Silverman previewed.
To be clear, the central premise of "Fashion Star" remains the same: Each week, contenders are challenged to design clothing with a certain look, feel and function. Their goal is to get Macy's, Saks Fifth Avenue or Express to buy their wares -- or even better, to create a look that inspires a bidding war. Designs that sell on the show are immediately available to the public, while contestants who don't sell anything end up on the chopping block, with one designer sent home each week. The last designer standing -- aka the "Fashion Star" -- wins the multi-million dollar prize of launching his or her original collections in all three stores.
Are you going to tune-in to "Fashion Star"? Tell us at MSN TV on Facebook and Twitter.
The rules remain the same this year, but as the "Fashion Star" fashion show began, MSN TV quickly sensed a more competitive edge than last year: Jessica Simpson, Nicole Richie and John Varvatos were seriously invested. We even heard some trash talking!
"The mentors aren't just giving advice this year," Silverman explained. "They have rooting interests, starting from the first episode [when] they pick contestants to be connected with. We collaborated to align mentors with designers who carried some of their creative ethic and also matched up on a personality level."
In other words, the season of cooperation is over. This year, it's about supporting Team Simpson, Team Richie or Team Varvatos.
"You're getting the competition between Jessica, Nicole and John that didn't exist in Season one. You're also getting much more aggressive behavior between the mentors and the buyers -- and the mentors are sitting right next to the buyers now, so there's a lot more drama!" Silverman previewed. "You're going to see sides of Jessica, Nicole and John you haven't seen before. You're going to see them outside of their comfort zones."
The New Faces of "Fashion Star"
A new season always means a new crop of contestants, but "Fashion Star" took things to another level by adding other new faces.
The first fresh face we noticed was the "Fashion Star" stage, which has been redesigned to project the feel of an exclusive Fashion Week show in New York. The new catwalk is less flashy, making the designers' weekly showcases about the fashion, as opposed to the spectacle.
"Fashion Star" is also introducing a new host this season. With executive producer Elle Macpherson staying behind the scenes, fashion journalist and TV personality Louise Roe has assumed her duties. TV fans and fashionistas may recognize the Brit from the makeover show "Plain Jane," E! News' live coverage of the Royal Wedding or the shows that have called her in as a guest, judge or makeover queen. Roe has also written for Elle, Glamour, Cosmopolitan and MSN and has her own fashion lines with HLN and StylistPick.com.
"Louise Roe is such a fabulous fashionista!" Silverman raved. "She really gets fashion, but she's also sweet and incredibly empathetic. She's like a combination of Ryan Seacrest and Cat Deeley. She's very present and she relates to the contestants. This is a huge opportunity for her too, so she's inside the emotion with these people in a real, deep way."
Emotion is not what it's about for the other new face of "Fashion Star," Erika DeSalvatore. The Express buyer joins Macy's Caprice Willard and Saks Fifth Avenue's Terron E. Schaefer, who are back in the game again. H&M is no longer represented.
"Erika is an amazing upgrade," Silverman said. "She rounds out the buyers. Terron is the most exceptional buyer and a fashion genius, representing Saks so brilliantly. Caprice is a strong executive, but also of the trend that she's connected to. What's incredible about Erika is that she's a businesswoman. She's a principal at Express, so her point of view compliments Terron's and Caprice's, but also shows another side of the business, which can be even more ruthless."
It sounds like Season 2 could get cutthroat. Luckily, this new crop of designers is up for the challenge.
"The contestants are higher quality, in terms of talent," Silverman promised. "We have everything from brilliant, young FIT graduates to someone who literally quit their job at Elie Tahari to come be on the show. The level of design is so high."
Silverman credits the first season for this year's impressive turn out. There can only be one "Fashion Star," but designers who tuned in realized real business was going down. A single episode can change a career, because designs purchased by Macy's, Saks Fifth Avenue and Express hit the real world immediately after the broadcast.
In other words, after the "Fashion Star" finale shoot back in November, a season's worth of hot designs went into production - while MSN TV was stuck holding this killer of a secret! Yes, we know who won. No, we will never tell. You'll just have find out the old fashioned way: Tune in, pick your favorites and see how far they make it. Oh, and maybe buy some cool clothes, along the way.
"Fashion Star" returns Friday, March 8, at 8 p.m. ET/PT on NBC.