Deena Cortese keeps 'Dancing' hopes alive
'Jersey Shore' housemate says she didn't flash Mardi Gras, still has poor grammar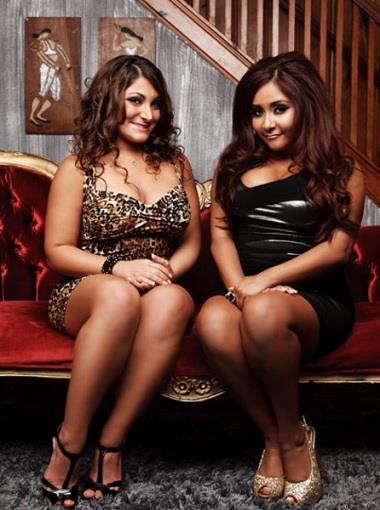 Reputed reality chanteuse
Countess LuAnn
once philosophically belted that "Money Can't Buy You Class." But, in fairness to ex-"Jersey Shore" star Deena Cortese, she hasn't really earned enough net income yet to judge. 
That's perhaps the reason she's been vying for a spot on "Dancing With the Stars," which in turn is why the 25-year-old N.J. native would certainly never sully her reputation by flashing nude boobage on the streets of New Orleans during Mardi Gras. 
After a censored clip
popped up on TMZ
allegedly catching Cortese in the act of public indecency (and boy, does that term apply in this case), the Jersey girl immediately rebutted, telling the site, "If I were down in Mardi Gras I would 
not
be showing off my boobs or any of my goods." We're figuring the latter, open-ended hypothetical refers to second-hand watches and fake Armani wallets.
But our favorite part of her denial, apart from the video inciting scandalous thoughts in exactly no one's imaginations, was when Deena referred to her future television aspirations by adding, "I've been trying to work on changing my image especially since I want to be casted on 'Dancing With the Stars.'"
By "casted," one can only assume Ms. Cortese is purposefully employing the old English iteration of cast, as in having summoned a pall or plague, which is what her weekly presence on 'DWTS' would amount to for many viewers. Either that, or she's specifically eager for the moment when she can reflect in past tense on having been cast on Season 16 of the celebrity ballroom competition. 
But, to be clear, those were not Deena's boobs. Because to paraphrase
Meatloaf
, this person would do anything for TMZ love, but she'd never, ever do that:
Are you sure you want to delete this comment?