A new, gentle age of satire?
'Portlandia' and 'Enlightened' love their targets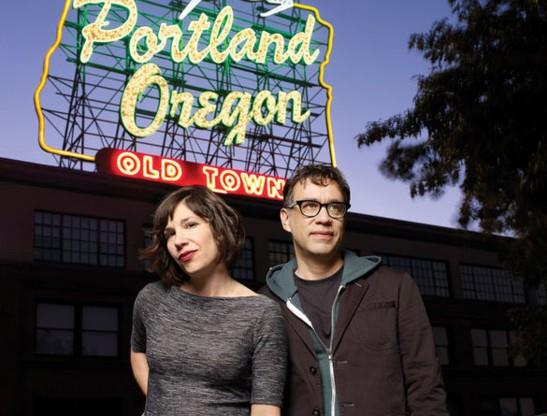 When invitees pull up to an art opening in Season 2 of "Portlandia," they're on bicycles. They hand the valet keys to their bike locks.
Bing: More about 'Portlandia' | "Enlightened'
The things Fred Armisen and Carrie Brownstein skewer Portland, Ore., about on their IFC sketch comedy show make my family want to move there. The world of "Portlandia" is a vibrant haven for art, fitness and eating healthy where rock and jazz bands proliferate, feminist bookstores attempt to politicize customers and "zucchini milk" is the new milk.

The show's characters are funny only because they obsess so much about doing good, they can't even enjoy the Valhalla they've created for themselves. But we can.
Plus: TV's real-life couples | Love lessons from 'The Bachelor' | TV's top dogs
Likewise, exposure to the New Age movement portrayed in HBO's "Enlightened" makes me want to attend the same spiritual rehab where Laura Dern's Amy Jellicoe, after a meltdown in the office, sings around campfires, learns to meditate and communes with a tortoise.


Brownstein -- a founding member of the indie band Sleater-Kinney -- lives in Portland, where she plays in an indie band called Wild Flag. Likewise, "Enlightened"
writer-producer-cost​ar
Mike White
was actually sent to a similar rehab, where he developed a meditation practice, following his own meltdown.

Both of these series use New Age icons not for target practice, but as a backdrop for layered development of characters who are flawed for reasons other than their drive to do good in the world.


How successfully both of them infuse love into such biting satire stands as only the latest testament to how much better TV writing is getting.


Namaste.
"Portlandia" airs Fridays at 10 p.m. ET/PT on IFC. "Enlightened" airs Sundays at 9 p.m. ET/PT on HBO.