Lisa Ling gets kinky
Journalist explores BDSM on 'Our America,' but will it boost ratings?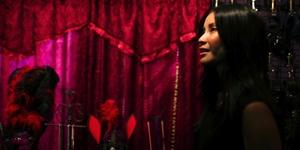 Sex sells, but does it guarantee viewers?
The folks at OWN are about to find out when the fourth season of "Our America with Lisa Ling" debuts Tuesday, Jan. 22.
Bing: More on 'Our America with Lisa Ling' | Lisa Ling
In the opener, Ling will explore the world of BDSM (bondage, discipline and sadomasochism), inspired by the popularity of those, um, steamy "Fifty Shades of Grey" books.
Plus: 15 TV actors who have worked with Kevin Bacon | Canceled or renewed
While Ling swears she isn't pursuing these folks and their interests for ratings, it is worth mentioning that OWN is operating under a more headline-grabbing regime these days and her show has yet to pull in a million viewers. The Season 3 finale on swingers garnered less than 500,000.
The rest of Season 4 is less racy. There's an episode about obese kids in the South and another on seniors, including Ling's rambunctious and charming 75-year-old, pot-smoking dad.
"Our America with Lisa Ling" Season 4 debuts Tuesday, Jan. 22, at 10 p.m. ET/PT on OWN.