Kelsey Grammer and Martin Lawrence teaming up?
Unlikely pair in talks to become TV's oddest couple yet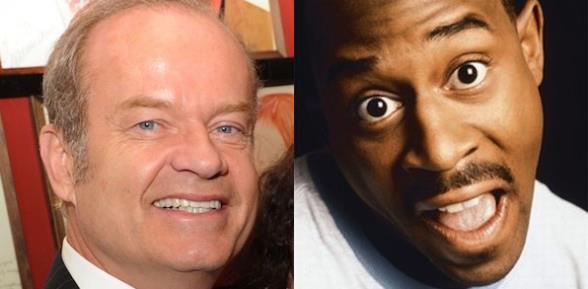 Yes, you read right: Kelsey Grammer and Martin Lawrence are in talks to become TV's oddest couple yet. 

According to Deadline.com, the pair apparently met way back in November to discuss opportunities -- and showed quite a bit of chemistry, leading to talks of a multi-camera sitcom. But the deal was kiboshed until Grammer was able to separate his Grammnet production company assets from his now-ex-wife, "Real Housewives of Beverly Hills" star Camille. The company has produced shows including "Girlfriends, "Medium" and "The Game," and Grammer reportedly didn't want to share potential future profits with his ex. 
Once the split was finalized in December, talks regarding the Grammer-Lawrence show plowed full speed ahead. The deal, with Lionsgate and its subsidiary Debmar-Mercury, is proposed to follow the model those companies put in place for Charlie Sheen's "Anger Management" and other cable network shows (including "Tyler Perry's House of Payne") -- with 10 episodes up front, and up to 90 multi-season episodes to follow if the ratings prove themselves, for a quick syndication possibility. Lionsgate and Debmar-Mercury are currently developing a sitcom for George Lopez under similar terms. 
Grammer recently ended his two-season run on the Starz drama "Boss," while Lawrence's last TV outing was his long-running hit "Martin," back in the late '90s. 
So what would the show actually be about? That remains to be seen, given the fact that no showrunner has yet been attached. But with Grammer at his best as neurotic psychologist Frasier Crane, perhaps we could see him back behind the desk as an odd doc to Lawrence's nutty patient?  
Are you sure you want to delete this comment?