'The Amazing Race' exit interview: Matt and Dan
The firefighters bet everything on a canoeing challenge and bailed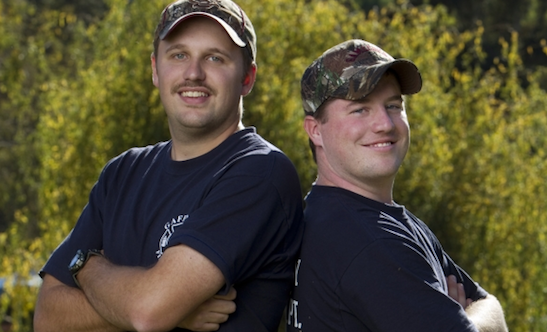 Every year, one unlucky team has to be the first one out on "The Amazing Race." This year, that sad duty went to firefighter buddies Matthew Davis and Daniel Moss, both from Gaffney, South Carolina. ("House of Cards" fans will know it as Congressman Frank Underwood's hometown.) We spoke with Davis and Moss about their not-so-failproof plot to stay in the game. 
MSN: Was it just horrible watching the show last night? 
Daniel: We watched it with all our family and friends last night -- everybody kind of knew that we didn't win the million. Once we went out, though, everybody was still really awesome, telling us it was awesome that we got to go to Bora Bora. 
Matt: The first thing we thought after we got eliminated was, Man, our whole goal was to win a million, then to see the world, and then, not to go out first. We failed on all of them. But when we came back home, everyone was still shaking our hands.
Did your friends at the firehouse, as you suspected, give you a hard time about losing a physical challenge to three women? 
Matt: They all gave us a hard time about everything -- but even if we'd won the million, they'd still have given us a hard time about what we spent the money on. They were going to give us a hard time no matter what. 
So tell me about your experience canoeing together. 
Daniel: Matt and I did a five-day trip down the Broad River, canoeing together and camping on the side of the river. We had a blast doing it. We do little one-day canoe trips all the time -- we're really, really into canoeing.
Any regrets about not continuing to look for the clue under the sandcastles? 
Dan: Everyone asked us why we decided to quit at that point -- when you're four hours into building sandcastles, you're thinking, I'm never going to find it. I wasn't digging deep enough to find the clue. I didn't read it well enough -- I didn't read [the buried clue] was beneath the sandcastle, and the longer the day got, the less I was digging into the ground. I thought, Hey, that's more I have to replace -- why would I dig deeper? Matt told me later that we weren't looking deep enough. 
Matt: During the Roadblock, your partner's just sitting there. Me and Matt and Caroline were all talking, and Matt was like, They're not digging deep enough. [The clues] were down in the sand pretty deep -- you had to dig pretty deep to find them. But you can't go out there and say, "Dig deeper." It was hard sitting there, watching it. And he said, "Man, I'm never going to find it." If you're never going to find it, you have a zero percent chance of finding it. And we figured we had one of out of three with the canoes. Being canoers, we thought we had a good chance. 
Did your size work against you in the outrigger canoes? 
Dan: Our size and being two guys -- plus there was another guy on the back, steering you. Put three grown men in a canoe like that, and the odds are against us. The other two teams didn't weight 100 pounds soaking wet. You put 600 pounds on one....
How did you lose so much time? 
Dan: As soon as we got on, we flipped, but we were still in the lead. The boat was full of water, and the guy at the back had a little soup can to bail it out -- and he wouldn't let us back in until we got most of the water out. We finally got to get back on it, and at that point, we really were neck and neck. Then we flipped again, and once we did, we just knew it was done. 
Between you guys and "House of Cards," Gaffney's really getting a lot of airtime this season. 
Matt: They came here and did a little bit of filming here -- they used our welcome sign and our big giant peach. I think that's one of the things that got us on the show. It's our hometown, and we're definitely partial to it. We've had a guy from Gaffney on "Survivor," a couple of NFL football players, basketball players, everybody. I think it's just us being real. 

They have a point about how much heavier their canoe was than the other teams, but with all of that experience canoeing together I am still surprised that they lost.  Looking back on it now it is easy to say that they should have stuck it out in the sandcastle challenge, but with how hot and hopeless that challenge was I can see why they took the penalty.  I am out of town traveling for my job at DISH, but fortunately I was able to watch the show while in the airport this morning.  I love how I can stream recorded programs from my DVR to my iPad with DISH Anywhere because it really helps pass the time while traveling. 
Are you sure you want to delete this comment?