Carolyn Hennesy & Bradford Anderson Talk 'The Secret Life of Damian Spinelli'
'General Hospital' mystery, laughter and suspense hit the page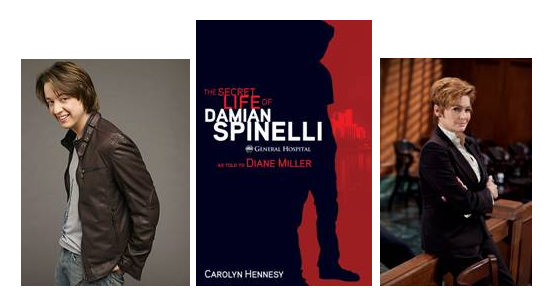 By Deanna Barnert
Special to MSN TV


While Spinelli and Diane were collaborating on their great manuscript on "General Hospital", Carolyn Hennesy (Diane) was busy penning a little ditty for those of us stuck in the real world, "The Secret Life of Damian Spinelli". The new novel promises fresh tales about Port Charles faves from the Emmy-nominated actress who puts the cougar "Cougar Town". Hennesy is also the scribe behind the tween book series "Pandora", but she gives costar Bradford Anderson (Spinelli) credit for inspiring the mystery, laughter and suspense of "The Secret Life of Damian Spinelli". Hennessy and Anderson dish on what to expect from this upbeat yet noir tale from Port Charles, which hits stores in hardcover and eBook formats April 5, 2011.
Giveaway: Email us with your favorite GH moment and enter to win a signed copy of the book!
MSN TV: April 1, 2011 was the show's 48th anniversary, so happy birthday!

Carolyn Hennesy: Thank you. It's not an April Fools' joke. We are 48.

Bradford Anderson: Funny, we don't feel a day over 21.

Carolyn Hennesy: Nor do we look it.
How's life in Port Charles treating you?

Carolyn Hennesy: We're groovy! There's some serious drama on the show these days. We just lost a little one, so everyone's affected. You don't want to be a child in Port Charles. You want to be born and somehow, you show up and you're 21.

Bradford Anderson: SORAS: Soap Opera Rapid Aging Syndrome. Gotta go through that as soon as you're born.
What can we expect from the "The Secret Life of Damian Spinelli"?

Carolyn Hennesy: Thrills, chills, suspense and a whole lot of laughter.
So it's lighter than what we're watching on "General Hospital" these days?

Carolyn Hennesy: The sinking of the Titanic is lighter than what's going on in the air show, but yes, it's much lighter. There are moments of tenderness and poignancy. There's one or two tears shed along the way, but 95 percent of the book is a laugh riot rollercoaster.

Bradford Anderson: We should have released this book a couple weeks ago, so you could watch the sad air show, then read a chapter of the book and have a little levity, and then go back to the air show. It would have been a good reprieve.
Is "The Secret Life of Damian Spinelli" a nod to old school noir, like the teases we've seen on the show?

Carolyn Hennesy: It's not just a nod: it's a whole interpretive dance. When I was approached to write the book from Damian Spinelli's point of view, I was able to incorporate my intense love of film noir and noir fiction. Dashiell Hammett, Raymond Chandler, Orson Wells -- you name it! That combines so well with Spinellis' alter ego, which is right out of "The Third Man" and "Key Largo". That was just a fortuitous blessing.
Were you given carte blanche to attack the book however you wanted?

Carolyn Hennesy:  Yes. If they had something in mind, I didn't know about it. I came up with a concept, wrote up a few sample chapters and pitched it. Nobody said no, so I had a tremendous amount of freedom. Of course, the first person to read it once it was done was Bob Guza [head writer], who gave it his stamp of approval.

Were you nervous about giving your baby to that first reader?

Carolyn Hennesy: I felt I had done a good service to the characters. I was reverential, while at the same time being a little expansive, adventurous and fantastical with the characters. I was fairly confident and Bob's reaction just validated that. Of course he had some notes, but they were easy to incorporate and I had such fun writing the book, so I was beyond thrilled.
Spinelli is the narrator, but who is the hero of this novel?

Carolyn Hennesy: Need you ask?

Bradford Anderson: Of course he's the hero! Spinelli's the one who comes to Diane with the story and within each of the individual stories, he's the hero every time. (laughs)

Carolyn Hennesy: Which is as it should be! But we also discover even more heroic attributes of some of the favorite characters on the show, like Patrick Drake and Edward Quartermaine. Dante's life is put in peril and we also discover some wonderful things about Luke Spencer.

Bradford Anderson: Each individual character gets to shine, and that's what's going to be so fun for viewers of the show. They'll see their favorite characters in situations they might not see them in every day and see their mettle put to the test and come through victorious.
How much does the book coincide with "General Hospital" story?

Carolyn Hennesy: These are side stories. Diane is very skeptical as to whether or not they actually happened. In fact, throughout the course of the book, she simply doesn't believe, but at the end, she has a different opinion.
Carolyn, are you upset you have to share writing credit with Diane and Spinelli?

Carolyn Hennesy: I don't! (laughs) Yes, I wrote the book, but believe me, Bradford is the best inspiration anyone could have. All the credit does go to Bradford, because without Spinelli, there would not be this book.
With the book landing April 6, will we get to see more of you two on the show – especially Spinelli!

Bradford Anderson: That's an interesting question. There's tons of fodder in the book for story, if they think that fits into what they want to do with the show.

Carolyn Hennesy: If they decided to film even snippets of these stories, they have material for years.

Bradford Anderson: And ways to go forward with them, too... But thankfully, we're both still employed by "General Hospital and will be for a time to come!