Rodman to North Korea: Most insane idea ever?
'Celebrity Apprentice' star on a mission of 'basketball diplomacy'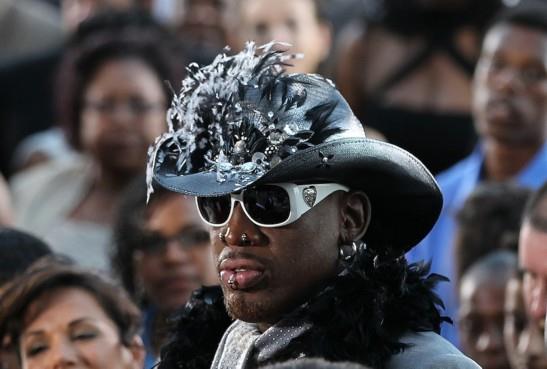 Dennis Rodman is in North Korea on what producers of a television documentary are calling a mission of "basketball diplomacy." And just when you thought "Dancing With the Stars" casting Andy Dick was the most insane idea you would hear all day.


Bing: Dennis Rodman | VICE magazine

According to the L.A. Times, Rodman and three members of the Harlem Globetrotters are in Pyongyang to stage a basketball camp for kids that will be filmed for an HBO special to air in April.

A magazine called VICE actually had the thought that sending an unpredictable sexual deviant to an ulta-conservative, fascist country that has declared war on the U.S. -- only two weeks after it performed an illegal nuclear test -- sounded like a good enough idea to implement instead of laugh at and then dismiss once the drugs wore off.


Oh, and making this an even better idea, VICE did not notify the U.S. State Department about the visit in advance.
"Looking forward to sitting down with Kim Jun Un," Rodman tweeted on Tuesday morning.

And I'll bet North Korea's "supreme leader" is looking forward to sitting down with you, too, Dennis. He's reportedly a fan of the '90s Chicago Bulls, with which you won three of your five NBA championships. And what more prized piece of memorabilia could there possibly be for his mantel than you?


Plus: 'Dancing With the Stars' cast | Shows that are signing off this year | Fantasy 'Real Housewives' cast


Organizers refer to the stunt as "basketball diplomacy," because "the most insane idea ever" wasn't as catchy.

Oh well, if things don't work out as planned, at least some good torture footage will come out of it.


What do you make of this bizarre news?

What are these people thinking ?   Rodman in north korea ?   jesus mary and joseph !       what are the repercussions of this going to be ?the state dept is distancing itself  from this adventure  ?   oh come now . . . . . . this has the mastermind of Hillary Clinton all over it !   God have mercy on the outcome of this fiasco !! 
Are you sure you want to delete this comment?