'Breaking Bad' Behind-the-Scenes Teaser
AMC whets appetites with early Season 5 promo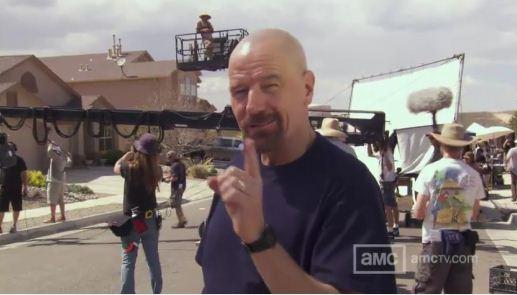 It's become de rigueur of late for networks to release early, cryptic online teasers for their most talked-about series. HBO's sunk their teeth into the practice
with "True Blood"
(pardon the vampire wordplay), and AMC practically trademarked the art after this past winter's blink-and-you-miss 'em
"Mad Men" clips
.
Bing: More on "Breaking Bad" | Bryan Cranston | Aaron Paul

Now, the network formerly known for broadcasting 24 hours of American Movie Classics has ushered in the viral promo campaign for Season 5 of "Breaking Bad," which premieres at a TBD date this summer. 
The trailer takes place on set, in front of Walter White's suburban New Mexico home, and offers nearly a minute and a half (
"Titanic"
-esque by the usual standards of these things) of behind-the-scenes repartee with Bryan Cranston and Aaron Paul. Cranston, ever the kidder, notes, "You'll see some very pampered actors under umbrellas" and pokes a bit of fun at our modern-day spoiler paranoia by whispering, "They're just rolling right now on a shot. If we panned over, which we're not, you'd see something that's revealing a plot point. We can't show you that."
Paul, meanwhile, reassures viewers that the upcoming slate of episodes is "hands down the craziest one as of yet," which is pretty much what Paul says before every new installment. Still, you have to appreciate his and Cranston's audible disbelief when they reiterate that it's the shows fifth season. Not that TV audiences haven't always rallied around anxious dramas about meth-cooking Southwesterners with no real protagonist. So we'll just have to trust Paul when he promises, "It's gonna be a wild, crazy ride."
Season 5 of "Breaking Bad" premieres this summer on AMC.