Q&A: Marco Dapper of 'The Young and the Restless'
Some might say Carmine is a fool for coming between Lauren and Michael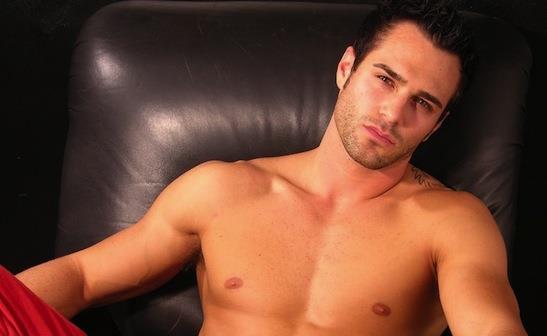 Michael Baldwin and Lauren Fenmore have become upstanding citizens on "The Young and The Restless," but it wasn't always that way. The schemers found redemption and then each other, creating a Genoa City power family. Now, with their marriage falling apart, Lauren has fallen into bed with Carmine. Could this betrayal push Michael back to his old ways? The potential for disaster is enormous, and that's just how Marco Dapper (Carmine) likes it.
Bing: More about "The Young and the Restless" | Marco Dapper
Some young actors would be scared to come between a beloved soap couple, let alone a couple with a nefarious past! But Marco Dapper was all smiles when MSN TV caught up with him during a visit to "The Young and the Restless."
Plus: Most dramatic 'Bachelor' finales ever | 10 reasons we now hate 'Glee' | 'Dancing With the Stars' cast
MSN TV: How does it feel to be the man coming between Michael and Lauren?
Dapper: Awesome.
Are you aware of Michael's history?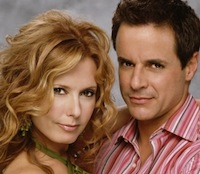 I know his history and Lauren's too. A bullet's got to be coming my way. I was telling Christian [LeBlanc, Michael], "You're going to try and kill me. I can feel it coming!" I'm sure somebody'll kill me off at some point. (laughs) But here's the thing, as a friend to both the actors, it's so much fun. I get to tease them, off set. I go, "I'm doing your wife!" and Christian screams, "I'm going to get you!" They're so fun, and the story is juicy. I want more!
From what you've seen so far, could learning about Carmine push Michael back to his old game-playing ways? 

I hope so! Because that sounds fun to me. I want to play games. People keep asking if I'm worried about my character, because something might happen. I implore it, because that means more fun to me. I'd rather get as crazy and creative as I can for 5 months and sell something really cool than do 10 years of boring nothing. That's why I'm in this business.
When I was on the show before, I wasn't used nearly as much. I felt more like a glorified extra. I was in the background bartending half the time, but now they've given me a juicy storyline. It's even juicier than when I was with Abby. With Abby, it was cute and kitchy, but no one cared. This is going to be a scandal.
Plus: Addicted to 'The Bachelor' drama | 10 reasons we now hate 'Glee' | TV trailer parks and their kin 
Can viewers expect more juicy Carmine/Lauren scenes before that scandal breaks?

Absolutely. Of course. My dad watches the show now, so I gotta make him proud. "That's my boy!"
Good, because we need to see more of you with that shirt off and frankly, Tracey Bregman still looks great in lingerie!

She does. The woman never ages. Neither of them does. I think they're witches.
How does Christian feel about going up against a younger man?

He loves it. He has been my biggest supporter, probably. Everyone has, but he's always taking me aside and talking to me about scenes. He's been a lot of help. Like a big brother. I've got so much love for that guy. Really cool dude. When I was told I was being brought back for this storyline, I couldn't have been more excited. I love Christian and Tracey on the show.

Are you worried about fan backlash?
Oh, they're going to hate this. Lauren and Michael are the most favorite couple - the most boring couple if you ask me! When Christian, Tracey and I talked about this, they said, "We haven't had this much fun in a long time. We're getting to play all these emotions we haven't touched on for so long." They're actors. They want to do different things. When you're stuck in a relationship for 7 years on TV, that's a long time. This is a soap opera, right?
You clearly can't wait for this to blow up, but what are Carmine's intentions?  Is he serious about Lauren or does he just think she's hot?
Both. It's complicated. You meet someone, you find them attractive and then you have something and it starts turning into more then you thought it was going to be. Carmine has a good heart and he's falling for her. But she's a taken woman, so what do you do about that?
Do you consider Carmine an honorable guy?

I don't think Carmine is dishonorable. He's a Jersey kid. He's up front. If he doesn't like you, he doesn't like you. That's it. If you notice, the rest of Genoa City is scheming. I feel like my character's the only one who doesn't scheme, but everyone hates him. They think he's the bad guy - but he's not! In this town he is, because they're all liars. If Genoa City was real, everyone would be dead. That's what's funny. Carmine's the wise guy coming in, the pariah, but he's just a straight shooter. It reminds them of how dishonest they are. That's why they don't like him.
Now the fans are going to hate you, too. 

Absolutely, but I'm ready for it and I want them to hate me. Yay! I don't think I could ever compete with Lauren and Michael's history and I don't think it's designed to be about that. I need to give them a hiccup and show people how much they love each other. Let's be honest, affairs happen every day. We all hear about friends, family, moms, dads, uncles, aunts. It's all about how you get back up from that and what you do in that situation. How much do you love this person and when that love is tested, where do you go from there?
"The Young and the Restless" airs weekdays on CBS.