'MythBusters' Floats Nagging 'Titanic' Theory
James Cameron helps determine if plank could have held two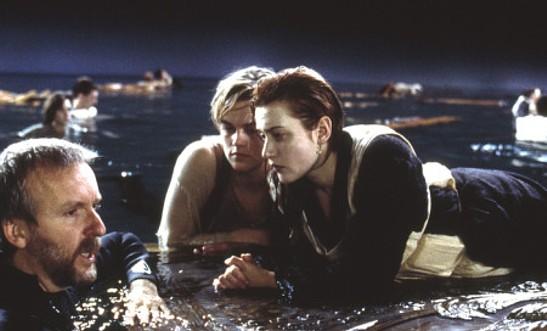 Apparently, there are no more myths left in the real world, because the upcoming season of "MythBusters" will explore whether there was room for Jack to fit on Rose's floating hunk of wood at the end of James Cameron's "Titanic." Couldn't she just have moved over and saved his skinny butt?
Bing: More about 'MythBusters'
According to the Hollywood Reporter, Cameron is even boarding the episode, which could forever rob hack comedians of one of their favorite punch lines.


"We're gonna put it to rest," the director tells the trade magazine.


A widely circulated series of photographs clearly illustrates that the makeshift raft included ample space for both Kate Winslet and Leonardo DiCaprio -- at least the 1997 Winslet and DiCaprio. However, Cameron is adamant that he did not ignore a logical flaw.
Plus: Movie stars who do TV | TV shows for TV snobs
"It's not a question of room, it's a question of buoyancy," he says. "When Jack puts Rose on the raft, then he tries to get on the raft. He's not an idiot, he doesn't want to die. And the raft sinks and kind of flips. So it's clear that there's only enough buoyancy available for one person. So he makes a decision to let her be that person instead of taking them both down."


Gee, considering that Cameron is so actively promoting this episode, we wonder which side wins -- the one that makes him look like a bad director and turns the beloved Rose into a selfish murderer, or the other side?


Check out a preview of the new season, which includes a snippet of the episode:

Next up for "MythBusters": Why the Professor didn't just patch up the "Gilligan's Island" boat. Just kidding (but barely).


"MythBusters" returns this fall on the Discovery Channel.