Ellie Kemper eyes NBC pilot
The 'Office' star in talks to play 'Brenda Forever'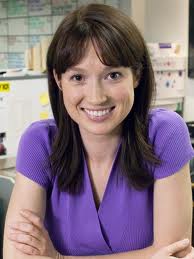 The next "Office" star to perhaps score a show for fall? That would be Ellie Kemper, who plays the dimwitted but sweet assistant Erin.
Bing: "The Office" | Ellie Kemper | "Brenda Forever"
According to Deadline.com, Kemper is in talks to sign on to the recently greenlit NBC pilot "Brenda Forever," penned by Andrew Leeds and David Lampson, who are close with the actress. The "13 Going on 30"-ish comedy – which had both NBC and FOX bidding to go to pilot – offers a dual narrative look at the main character Brenda at, you guessed, 13 and 31.
Leeds and Lampson developed the project in-house at Sony TV, and this will be their second script to go to pilot for NBC, following 2010's "Rex Is Not Your Lawyer." 
Also: 'Game of Thrones' Season 3 photos | 30 rockin' '30 Rock' moments

Deadline.com notes that this is the first script to stir up serious interest from multiple networks this season, which has gotten off to a slow start – with several seemingly sure things, like the CW's "Amazon," not getting pick ups at all.
Kemper, too, has drawn much interest this pilot season as she wraps the ninth and final season of her long-running comedy "The Office." 
"The Office" airs Thursdays at 9 p.m. ET/PT on NBC.