'Parenthood' creator to fans: Don't count Mark out yet
Turns out that whole Sarah Braverman love triangle thing is not quite over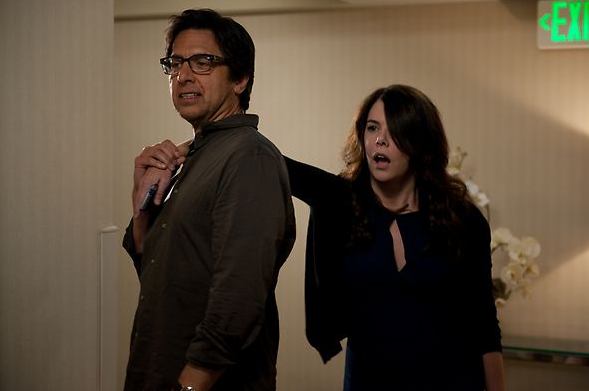 If you're a "Parenthood" fan mourning the end of Sarah Braverman's engagement to Mark (played by the charming Jason Ritter, you'll recall), then, well, here's some happy news. It's not quite over -- yet! 

Bing
:
More on "Parenthood"
|
Jason Katims
The show's creator, Jason Katims, says, yes, Sarah (Lauren Graham) made an impulsive -- and potentially disastrous -- move in sleeping with her boss Hank (Ray Romano), but he warns viewers not to count Mark out just yet. 
"The idea with that episode was to talk about how everything is so changed around the holidays,"
Katims told TVLine.com
of the pair's holiday hook-up. "To me -- and obviously at this point this is just my opinion -- that's my feeling, that around the holidays, things are so charged. So her ending up with Hank was not the decision of, 'Oh, this is where I'm heading in my life.' It was something that happened because she's coming into the holidays in such an emotional place." 
Of course, whether or not she meant to make her split with Mark permanent, every action has its consequence. And the chemistry between Sarah and Hank was cause enough for Mark to act -- in this case,  calling the whole thing off when he found Sarah and her boss, drunk, stumbling down a hotel hallway, earlier this season. And leaving that little bit of wiggle room for her to act on her feelings for her boss. 
But that doesn't mean Mark's gone for good. In fact, Katims said this week, we will see Jason Ritter's character return -- and it will be before the Season 4 finale on January 22. 
"We certainly have set up that there's chemistry between [Sarah and Hank] that they both are aware of, but this does not mean that Sarah has put an end to the relationship with her and Mark either," said Katims. "We have not seen the last of Mark. That will get picked up again in this last group of episodes. So there's more to be figured out. It's not just over!" 
"Parenthood" returns with all new episodes Tuesday, Jan. 1, at 10 p.m. ET/PT on NBC.