Kevin Costner Talks 'Hatfield & McCoys'
Acclaimed actor makes his first foray into TV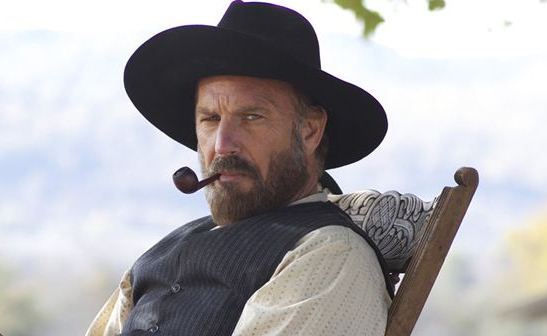 By Mekeisha Madden Toby
Special to MSN TV
Movie star Kevin Costner never does anything half way. Just look at History's three-part miniseries "Hatfields & McCoys," Costner's first foray into television. Not only is the 55-year-old actor ("Dances with Wolves" and "The Bodyguard") starring in the flick as Devil Anse Hatfield – one of the two men who started this infamous and bloody family feud – but he's one of the producers. And he and his band, Modern West, did the soundtrack.
Bing: More about More about 'Hatfields & McCoys' | More on the soundtrack
Costner, who dons a leathered visage and a frighteningly full beard, is in good company with an impressive cast that includes Bill Paxton ("Big Love") as his former friend and rival Randall McCoy, as well as Tom Berenger and Emmy winners Powers Boothe and Mare Winningham.
MSN TV caught up with Costner as he promoted the film and talked about everything from why he's working with director Kevin Reynolds ("Fandango," "Robin Hood: Prince of Thieves" and "Waterworld") once more to why viewers should tune in.
"Hatfields & McCoys" airs in three parts Monday, May 28, at 9 p.m., Tuesday, May 29, at 9 p.m. and Wednesday, May 30, 9 p.m. on History.
Are you a fan of Kevin Costner? Tell us on MSN TV Facebook.
MSN TV: What made you want to get involved with this project?  
Kevin Costner:  Well, I had been asked a variety of ways, how much do you know about this story? And the truth is I probably knew a little bit more than the average bear. I like American history. So I got involved with it the way I do all the projects that I get involved with, I liked the writing. And I felt the authenticity of the writing. I was surprised by the violence. I was interested in what was really going on culturally at that point and being able to kind of immerse myself in that era.
What made you want to work with director Kevin Reynolds again?
I asked for Kevin to direct this movie, and they looked at me and they could tell I was really serious about it.  And they said okay. He has a very unusual eye, I think he's an artist, and we had a really good document and a script. And I can't emphasize that enough because that's why I chose to do this. But then if you combine it with a very good cinematic style it can be an exciting offering.  And I thought that Kevin would give us that.
How much research did you do for the role?
I started to go a little heavier into the socio-economic issues that were going on in that time. We had come out of this terrible Civil War, and the repercussions of that lasted 50, 60 years, or more.  So when we came out of the Civil War there was incredible anger.  And people who think of Hatfield and McCoy, think of Randall McCoy and Devil Anse Hatfield. But the more you study, you understand that the children and outside people were really the provocateurs of this – of this feud that endured. So I kind of try to go into actual human behavior instead of putting my own sensibilities on it, I try to go back to that time.
Also: What TV shows are returning next season?
What was it like to work with such an amazing cast?
They were all skilled and really, really dedicated.  And I think all the actors, if you want to call them veteran actors, they all try to search out material like this and hope that it comes along. And the fact that we ended up shooting in Romania brought the cast even closer together because we were all a long way from home, the language was a barrier for us, and sometimes the food and everything else. And people really rallied around each other. This group has managed to stay fairly close and still is pretty much in contact with each other long after this movie has been over, and that's quite unusual.
Were you a fan of Westerns on television like "Lonesome Dove" and do you feel the pressure to live up to something like "Lonesome Dove"?
You try to raise the bar on whatever you do because you're trying to – in this day of having to deal with a lot of reality TV – you try to create something that can live in people's minds long after they see it. And so I start with the idea that I don't want to make something that can just be dismissed the next day.  That it's maybe something you want to revisit.  Maybe it's something you want to share just the same way when you hear a great song or read a great book you go, "I'm going to tell somebody about this."
Do you think this is a good Memorial Day weekend option for men?
I don't know.  I can't speak to that. But I have to say if people show up to see what I'm doing that I don't believe they're going to waste their time.  I believe they'll see the reason why I did it. You don't want to waste people's time.  I mean you know it's Memorial Day weekend.  People are going to be drunk, right? So, you hope they find the Lay-Z Boy and they sit down and watch three nights of the "Hatfields & McCoys."
Want more TV? Be sure to like MSN TV on Facebook and follow MSN TV Twitter.
"Hatfields & McCoys" airs in three parts Monday, May 28, at 9 p.m., Tuesday, May 29, at 9 p.m. and Wednesday, May 30, 9 p.m. on History.
The story probably was fairly accurate and stayed the course.  One thing I know is the country where all this took place...I've worked all over Pike County, Kentucky and Mingo County, West Virginia.  Although highways have been built the terrain is rugged beyond most people's imagination and that alone caused lots of people to treasure their land and holdings in those days and still does to a lot of the natives.
One has to vist and see for themselves the lay of the land.  Yes, there are a lot of houses and traffic now, but still it is easy to see how everything could have happened in such a rugged place that remains isolated in a great degree...

What a great story, I have lived in Frankfort Kentucky all my life & knew about the Hatfield & McCoy fued but seeing it come to life was amazing. Hate, envy & pride sparked this fued also kept it alive for years but at what cost. So many young lives cut short & for what. Thank you for bringing this story to life hope he helps other people to learn before its too late.

My grand daughter asked me just last week "WHY DO WE HAVE TO STUDY HISTORY IS SCHOOL ITS SO BORING,", and gra ma said "  HO BOY,,, girl now you done it" Im a lover of all things history,( have a major it it) and most of all American history, so atfer a 30 min lecter on why, she went home,, we will see,, anyway GREAT movie, watched it 2 times, I studied this and wrote a paper on it in high school  and what happened to the people after, movie stayed true to history as we know it ,,again Great movie

As I watched the first episode last night I was struck with the realization that in a way Randall McCoy was the spark that ignited this feud.  It was his inability to forget Anse Hatfield's bailing out of a loosing cause while he stayed the course.  I believe he blames Anse for everything that happened to him after Hatfield went home.  Is this a Christian way to think?  Even though McCoy spouts the Bible a lot, his actions don't follow the line of forgiveness.  Someone said it was all over a pig....I think it runs deeper than that and is all over jeolousy and an inability to forgive on Randall McCoy's end.
Are you sure you want to delete this comment?