FOX Hit Shows to Reunite for 25th Anniversary Special
The casts of 'That '70s Show,' '90210', 'The X-Files' and more set to appear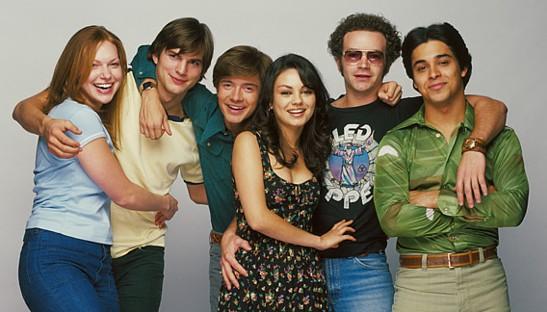 "That '70s Show" stars Ashton Kutcher, Mila Kunis , Laura Prepon and Wilmer Valderrama will reunite for "The FOX 25th Anniversary Special," according to the Huffington Post. The two-hour show will feature cast members sharing favorite series memories.

Kutcher and Kunis agreed to appear just to rub their Hollywood success stories in the faces of Shannen Doherty, Jason Priestley, Ian Ziering and Gabrielle Carteris from the original "Beverly Hills, 90210." (Just kidding. But seriously, we do wonder why Luke Perry's name is not mentioned. What better booking does he have that night?)


Also reuniting will be "In Living Color" stars/brothers Keenen Ivory, Marlon and Shawn Wayans, "The X-Files" co-stars David Duchovny and Gillian Anderson and the cast of "Married … With Children."


The current FOX lineup will be represented by, among others, "American Idol" judges Steven Tyler, Jennifer Lopez and Randy Jackson, and host Ryan Seacrest.


"The FOX 25th Anniversary special" airs Sunday, April 22, at 8 p.m. ET/PT on FOX.
Maybe some of us are interested in seeing this special..dont like  it ..dont watch it.. I dont watch all those stupid cartoons like simpsons..family guy and american dad anyway... Im grown.. I like shows with real humans now.. grow up and stop crying cuz u might have to miss 1 nite of these childish shows

Some of the above are persisting and hopefully it will pay off.  Sure did for the two "X-Files" leads.  Actually, Luke Perry was just on a 2-part episode of "Body of Proof," so he's keeping busy. Maybe some telemovie paychecks, but at least he's plugging. I hoped that small town drama Laura was in(shoot, I forget the name) stayed on, but she'll find a hit sooner or later(just not the show she's on right now). I hope, not just for Wilmer's sake, that "Awake" catches on.
Hey, what about the voices behind "The Simpsons?" They're a big piece of Fox's short history too.
Are you sure you want to delete this comment?