Q&A: Anthony Anderson of 'Guys With Kids'
Actor returns to his comedy roots on NBC's new fatherhood sitcom
Anthony Anderson wants to make you laugh.
After impressing critics on dramatic shows such as "Law & Order" and "The Shield" and in movies including the Oscar-winning flick, "The Departed," the 42-year-old Los Angeles native is returning to comedy on NBC's new fatherhood and relationship sitcom, "Guys With Kids."
Bing: More on 'Guys With Kids' | Anthony Anderson
Anderson cut his teeth in the genre as one of the stars of the Peacock's Saturday morning teen comedy, "Hang Time" (1996-98), and he's been gaining fans ever since.
Plus: TV's not-so-normal families | Fall TV premiere dates
A slimmer, trimmer and always funny Anderson talked to MSN TV recently about everything from his weight loss to parenthood. He married his college sweetheart and they have two children. A sneak preview of "Guys With Kids" airs Wednesday on NBC.
MSN TV: You've done drama and comedy. What made you want to do this show?
Anthony Anderson: I hadn't done a sitcom in a while where I was a series regular. I had been flexing this dramatic muscle that I had and wanted to -- "Law and Order," "K-Ville" and "The Shield." I just wanted to do it before I was typecast as a fat, funny dude. I didn't think I was fat until I saw some old pictures and I was like "Damn, you were a fat ass." I just thought I was husky because I lived with it until I walked past a mirror one day and I saw a picture from two months prior. It's a true story. I went back to work on "Law & Order" after our hiatus and our hiatus was only two and half months – so late April through mid-July. I was walking down the hall to my dressing room and people were gasping as I walked past their offices and walking out. They were calling and saying "Oh my God. You gotta see Anthony. You gotta see Anthony!" And so I walked past a mirror that was right next to my dressing room door and there was a picture of me, you know just a wardrobe picture from the last episode we shot before our hiatus months, just a continuity photo. And I stopped and went back and looked at it. I'm looking in the mirror at me now and looking at me in the picture on the mirror from two months ago and it was two completely different people. I had started losing weight prior to that but I saw the picture and I was like "Damn. I didn't have a neck." I didn't. I had jowls. I had been lying to myself for years. How did we get on this subject?
We were talking about what made you want to do this show.
Right. So, I'm doing shows like "The Shield" and "Law & Order"  and "K-Ville" and my fan base was like "Hey man, when are you going to do something funny again?"
Did you miss it?
I didn't miss it because that's who I am. I'm always funny. Even in these dramatic roles, I'm funny. I didn't miss it because I had a point to prove to people who didn't think of me that way. A lot of people asked me if it was difficult to make the transition. The transition wasn't difficult at all because it's what I do. I'm an actor. The difficult part was getting the opportunity to portray those characters because they weren't looking at me like that. But my fans wanted me to do comedy again and so here we are. That's why I accepted this. I was in (line) to develop something for FX but there was no guarantee as to where that was going to go and it was going to be a half-hour comedy. I had to abandon it because this came. It was being made, Jimmy Fallon is a good friend, it's NBC. Great cast. Great script. So I did it. I just believed in it. I would've loved to have done something on my own that I could control and create but at that particular time, this seemed like the best fit.
Talk about your character. You're a stay-at-home dad with four kids?
Four kids. Married to the lovely Tempestt Bledsoe, who portrays my wife Marny. That was one of the reasons I wanted to do the show because we hadn't seen a positive, loving black family on network television in a while and here was a chance to do that. You know I'm a stay-at-home dad by choice. I empower and embrace my wife to go out and be the breadwinner and work while I stay at home and raise our children.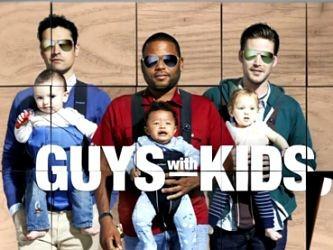 The running joke is that because you made this choice, you sort of get the short end of the stick and you don't get to go out. You have to take the kids to the bar.
Of course. The men go out and the wives have to stay home and by the time we do get home and there is something to do, they're dead tired because they've been taking care of the kids all day. So now the roles have been reversed and it's like if you're going out, take them with you and "them" is four boys. I do get the short end of the stick but it's a good end to have.
Critics who don't love "Guys With Kids" say this is an old-school show with set up and punch line jokes and the guys are stupid and the women are annoying.  Do you see that or do you think that's an unfair criticism?
I think that's an unfair criticism. I don't know what they're watching but I think they've been spoiled with single-camera television. And this is old-school because it's in front of a live studio audience but old-school is what brought you to the new school. Our show is a throwback to what television once was. It's a throwback to what made NBC great. Not to say that these single-camera shows they have on the network aren't great but it's limited. Multi-cam is set up/punch line but what's wrong with that? That's what comedy is. And sometimes that's silly but it's funny. It's not slapstick but it's comedy. People are always going to have their opinions. I don't see why they say these guys are stupid.
Well, the dads experience pratfalls and are overwhelmed by fatherhood.
But who isn't? What first time parent isn't overwhelmed by childhood? The hell with first time, what parent isn't overwhelmed by childhood? You could have multiple kids and still not understand what it is because each child is different. I have two, 16 and 12, but they're different. You have them at different times in your life and your energy is different, their energy is different, the times in which you had them are different with success and what not. It's different. And I think that's what is going to appeal to the masses with our show. Everyone, no matter race, creed, color, economic background, is going to be able to identify with what we're doing on screen. If you're a parent, you'll definitely identify with it. If not, you're the friend of that parent who is going through that stuff.
CBS has proven there is still a demand for multi-camera comedies. Are you excited about that?
It's kind of like a lost art form. Quality television is quality television regardless of how it's shot. It is a throwback to old and I welcome it. I've been doing single camera for the last few years. It's kind of a welcome relief now to go back to this format. It's a rush being in front of that audience and they add a whole other element to it. The energy is different when you're performing in front of a live audience. They feed off what you're giving and because you feed off them, you're giving them something different than what's on the page. I think it's a great show that will resonate with audiences across the board. You'll have your naysayers with everything but if it does well, it shuts them up. If they ain't hating, you ain't doing something right.
"Guys with Kids" premieres with a sneak preview Wednesday, Sept. 12, at 10 p.m. ET/PT on NBC and debuts in its regular time slot Wednesday, Sept. 26, at 8:30 p.m. ET/PT on NBC.
Are you sure you want to delete this comment?