Starz flirts with 'Spartacus' spin-off
New drama would reportedly focus on Julius Caesar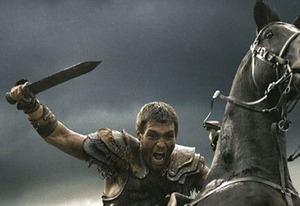 Fans of Starz's "Spartacus" franchise are in luck.
Although the show is wrapping up its third and final season with "Spartacus: War of the Damned," which kicks off in January, the producers are already eyeing a potential spin-off.
Bing: More on Starz's 'Spartacus' | Liam McIntyre | Todd Lasance
The new series would focus on Julius Caesar (Aussie actor Todd Lasance), an adversary of Spartacus (Liam McIntyre), who will be introduced in Season 3, Deadline reports.
Plus: Most searched reality stars | Canceled or renewed
Although there is no historical evidence that Spartacus and Julius Caesar  ever crossed paths, that doesn't matter when there are racy sex scenes and bloody battles to watch and enjoy. After all, the "Spartacus" franchise has overcome a lot, including the loss of its original star, Andy Whitfield, to cancer.
So don't think for one minute a little thing like historical inaccuracy will waylay the drama and its 6 million viewers.
"Spartacus: War of the Damned" premieres Friday, Jan. 25, at 9 p.m. ET/PT on Starz.

The SpartaCUSS schtick got old in something like two episodes.  I love ancient history; I can even enjoy fantasy versions of it; Spartacus is made in too juvenile a fashion for me to forgive, however.  It is a video game of fake, over-the-top blood sprays ripped from 300, and the dialogue consists of a complexity equal to little boys trying to shock people with the bad words they picked up at school.  It is simply .**** this and **** that for the sake of getting in all of the naughtiest words they can, and it is laughable.
Get over it and grow up a bit; tell the story and stop with the juvie language.  No one is shocked; it just drags us out of the story and makes us think "how lame, to keep beating this dead bad-language horse".
I love period pieces set in old times. There are many possible good stories besides Spartacus. Why not a show about all legends and myths and famous people in history? All different stories of famous persons, all across time. Variety is always good in a TV show. Keeps it fresh longer. And not just single episodes all the time either, but sometimes several episodes for the bigger stories.
You can send my check to.... lol j/k'ing. (Not Really)
Are you sure you want to delete this comment?