Look Who's Talking in Daytime: July 30 to Aug. 3
Stars from 'The Bourne Legacy,' 'Diary of a Wimpy Kid: Dog Days' and 'The Closer'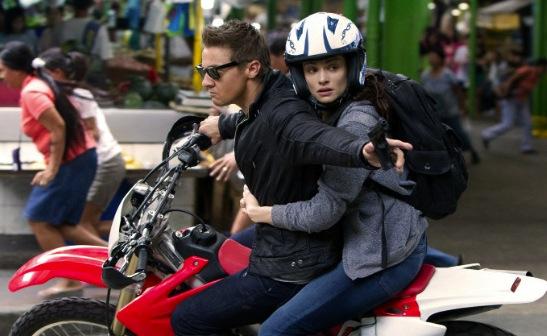 With the Olympics in full effect, daytime will be on the quiet side the week of July 30, but there are still plenty of celebs coming to talk. Big screen stars are promoting "The Bourne Legacy," "The Best Man," "Diary of a Wimpy Kid: Dog Days" and "Bullet For Adolf," along with D.L. Hughley, Jeanne Cooper and prime-timers from "The Closer," "Dallas," "Baby Daddy," "The Exes," "Retired at 35," "Bizarre Foods," "Kendra," "Are You Normal, America?" and "My Family Recipe Rocks." Ne-Yo and Joss Stone are set to perform and there are also several hot repeat performances and interviews on docket.
Bing: More about the 2012 Summer Olympics
"Today" will bel Live from London for the Olympics, while the soap "Days of Our Lives" will be pre-empted. Chris Harrison and Nick Lachey check in as "Live! With Kelly" co-hosts, while LeAnn Rimes and Cat Cora guest co-host at "The Talk."
Plus: Olympic TV efforts | 2012 Emmy nominees
 Schedules are subject to change.
"Anderson"
* Repeat Week: Season 2 premieres Sept. 10 *
Mon: Renegade Moms, Kristen Johnston
Tues: Jesse Tyler Ferguson
Wed: Wives Who Kill Abusive Husbands
Thurs: Jack Wagner & His Newly Discovered Daughter. Plus, Extreme Pet Owners
Fri: star of "Shark Tank"
"The Ellen DeGeneres Show"
* Repeat Week: Season 10 premieres Sept. 10 *
Mon: Colin Firth, Jeremy Irvine, Uggie The Dog and trainer Omar Von Muller; Colbie Caillat performs
Tues: Jonah Hill; Chris Rene performs; tap dancer Joshua Johnson performs
Wed: Simon Baker, Kristen Bell, Victoria Azarenka; Adrian Romoff performs
Thurs: Christian Slater, Lenny Kravitz
Fri: Kris & Bruce Jenner; Sophia Grace and Rosie; Giorgio Fareira performs
"Good Morning America"
Mon: TBA              
Tue: TBA
Wed: TBA
Thurs: TBA
Fri: Ne-Yo performs
"Live! With Kelly"
Mon: Jeremy Renner, Zachary Gordon; guest co-host Chris Harrison
Tue: Rachel Weisz; guest co-host Chris Harrison
Wed: Carson Kressley; Joss Stone performs; guest co-host Nick Lachey
Thurs: Caroline Rhea, Joey Fatone; guest co-host Nick Lachey
Fri: Amy Adams, Vanessa Williams; celebrity "Grilling with the Stars" winner; guest co-host Nick Lachey

"The Rachael Ray Show"
* Repeat Week *
Mon: Sherri Shepherd, Carter Oosterhouse
Tues: Hugh Jackman, Bobby Flay
Wed: Buddy Valastro, Peter Walsh; OAR performs
Thurs: Zanna Roberts Rassi, Leslie Bibb
Fri: "Mystery Taster"
"The Talk"
Mon: Wayne Brady, Kendra Wilkinson; guest co-hosts Cat Cora
Tues: Donald Faison; Kim Coles and Barry Poznick
Wed: Patrick Duffy, Melissa Peterman, Andrew Zimmern
Thurs: Jeanne Cooper, Margaret Cho
Fri: Marissa Jaret Winokur, Garcelle Beauvais, Chi-Lan Lieu; guest co-host LeAnn Rimes 
"Today"
All week, Matt, Savannah, Al and Natalie report live from London for Olympic coverage, with the 10a.m. hour preempted.


"The View"
Mon: Joan Rivers; Danielle Steel
Tues: Woody Harrelson, D.L. Hughley
Wed: Cybill Shepherd
Thurs: Kyra Sedgwick, Mario Cantone
Fri: Edward Norton, Dermatologist Dr. Doris Day

"The Wendy Williams Show"
* Repeat Week: Season 3 premieres Sept. 10 *
Mon: Joel McHale, Amanda De Cadenet
Tues: Tommy Davidson, Stevie Ryan
Wed: Jonah Hill, Alysia Joy Powell; Common performs
Thurs: Suze Orman, Kevin Hart, Marc Bouwer
Fri: Bill Bellamy, Brooke Elliott, Brian Balthazar