Look who's talking in daytime: Feb. 11 to Feb. 15
Valentine's Day romance, Oscar hype, Grammy hangover and prime-time dish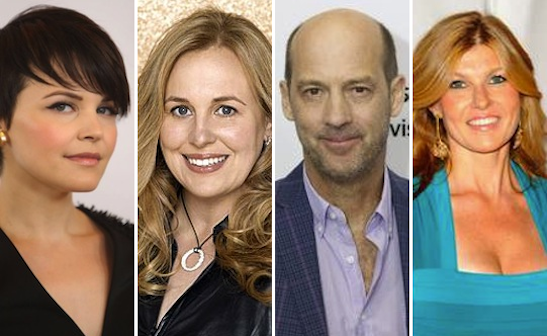 Valentine's Day is in the air, Oscar fever heats up and February sweeps make prime time a hot topic in daytime the week of Feb. 11. Stars from "Once Upon a Time," "Scandal," "Hawaii Five-0," "NCIS," "Shameless," "Monday Mornings," "Zero Hour," 'Nashville," "Necessary Roughness," "Glee," "The Neighbors," "The Big Bang Theory," "1600 Penn," "Suburgatory," "Rules of Engagement," "Modern Family," "Happily Divorced," "Malibu Country," "Survivor: Fans vs. Favorites," "Biggest Loser," "Project Runway," "Snooki and JWOWW," "Big Daddy's House," "Millionaire Matchmaker," "Mob Wives," "Shark Tank," "Edge of America," "The Face" and the TV movies "Killing Lincoln" and "Be My Valentine" are coming to talk TV. Big-screen celebs are promoting new releases and hyping their Oscar chances. Look for stars from "Beautiful Creatures," "A Good Day to Die Hard," "Beasts of the Southern Wild," "Oz the Great and Powerful," "Safe Haven," "The Sessions" and "Zero Dark Thirty." Monday will be all about rehashing the Grammys, so look for red carpet action and surprise visits from the winners. Plus, The Lumineers, Neon Trees, Colbie Caillat and Gavin DeGraw, Tegan And Sara and Josh Groban are set to perform this week. 
Bing: More Daytime TV news  | Academy Awards
Nene Leakes, Tyler Florence, Jane Velez-Mitchell, Regina King, Fran Drescher, Christie Brinkley and Brandi Glanville get into the co-host game; while Yvette Nicole Brown is becoming a regular on "The Jeff Probst Show." Other notables coming to talk include Genie Francis, Sean Kanan, Sue Paterno, Bruno Mars, Chris Young, Donald Driver, Julie Andrews, Cissy Houston, Eva Longoria, William Shatner, Al Gore, Jenny McCarthy, Soleil Moon Frye, John Boehner, Rev Run and Tyrese.
More: Love lessons from 'The Bachelor' | 'Survivor': Where are they now? | TV's top dogs
"Anderson Live"
Mon: Co-host Jane Velez-Mitchell
Tue: Co-host Regina King; Emmy Rossum
Wed: Co-host Fran Drescher; Inside Westboro Baptist Church with Libby Phelps Alvarez and Sterling Wyatt's family
Thurs: Co-host Christie Brinkley; Jackie Collins, chef Aaron McCargo Jr.
Fri: Co-host Brandi Glanville; Josh Duhamel and Julianne Hough
"Ellen"
Mon: David Spade; The Lumineers perform
Tue: Bruno Mars, Al Gore, Kathie Lee and Hoda
Wed: Mila Kunis; Tegan And Sara perform
Thurs: Sofia Vergara; Josh Groban performs
Fri: Josh Duhamel, Bethenny Frankel, Alicia Keys performs
"Good Morning America"
Mon: TBA
Tue: TBA
Wed: TBA
Thurs: TBA
Fri: TBA
"The Jeff Probst Show"

Mon: Dr. Sanjay Gupta, Jamie Bamber, Yvette Nicole Brown
Tue: Geoff Edgers, Timber Tina, Yvette Nicole Brown
Wed: Connor and Cayden Long, Yvette Nicole Brown
Thurs: Patti Stanger, Lisa Whelchel
Fri: Robert Herjavec
"Katie"
Mon: Sue Paterno
Tue: Jessica Chastain, Oscar-nominated documentary
Wed: Connie Britton, Reba McEntire, Chris Young
Thurs: Genie Francis, Donald Driver
Fri: Jane Lynch and Whoopi Goldberg, Brad Goreski
"Live! With Kelly and Michael"
Mon: Emmy Rossum, Jane Lynch
Tue: Viola Davis, 2013 Toy Fair highlights; Neon Trees performs
Wed: Josh Duhamel, Anthony Edwards, Jillian Michaels
Thurs: Bruce Willis, Molly Shannon, Andrew Zimmern
Fri: Heidi Klum; Nicole "Snooki" Polizzi and Jenni "Jwoww" Farley; Quvenzhané Wallis
"Marie"
Mon: (repeat) Luke Perry, chef Jamie Gwen, Gloria Loring
Tue: Jackée, Cynthia Sass, personal trainer and self-defense expert Jennifer Cassetta
Wed: William "Billy" Baldwin, Judith Jones, Scott and Joan Bolzan
Thurs: Sean Kanan, Sonya Nimri, chef Sasha Perl-Raver, Michael Logan
"Rachael Ray Show"
Mon: Bobby and Paula Deen
Tue: Cheryl Hines and Jenna Elfman, Rachael's husband John
Wed: Ginnifer Goodwin, Rev Run and Tyrese
Thurs: Julianne Hough, Cake Boss
Fri: Katherine Heigl, Dr. Travis Stork
"The Talk"
Mon: Grace Park
Tue: Julie Andrews
Wed: Jeff Probst
Thurs: Iconic TV couples reunions, including Meredith Baxter and Michael Gross; chef Nigella Lawson
Fri: William Shatner; Rocky Carroll
"Today"
* Kathie Lee and Hoda take the show to Los Angeles starting Tuesday
Mon:  Naomi Campbell, Julianne Hough, Blake Shelton
Tue: Josh Duhamel, Jackie Collins, Kate Upton, Jeff Probst
Wed: John Boehner, Jillian Michaels, Steve Harvey, Soleil Moon Frye, Richard Sandoval; Chelsea Handler's office tour
Thurs: Jenna Bush Hager, Patti Stanger, Sandra Lee, Nicholas Sparks
Fri: National Geographic photographer, Mark Bittman
"The View"
Mon: Julianne Hough, Guillermo Diaz; Colbie Caillat and Gavin DeGraw perform
Tue: Co-host Brooke Shields; Cissy Houston, Wendy Plump
Wed: Westminster Kennel Club Dog Show Best in Show winner; Steve Harvey, Lenny Venito, Mike Rousseau
Thurs: Co-host Nene Leakes, Helen Hunt, Melissa Rauch
Fri: Co-host Chef Tyler Florence, Eva Longoria; Billy Campbell
"The Wendy Williams Show"
* Live Like a Star month
Mon: Tommy Davidson, Renee Graziano
Tue: Mehcad Brooks; Ellen Fein and Sherrie Schneider
Wed: Joan Collins
Thurs: Jenny McCarthy
Fri: Patti Stanger
Schedules are subject to change .