A good year for soap operas
Daytime dramas made a comeback in 2012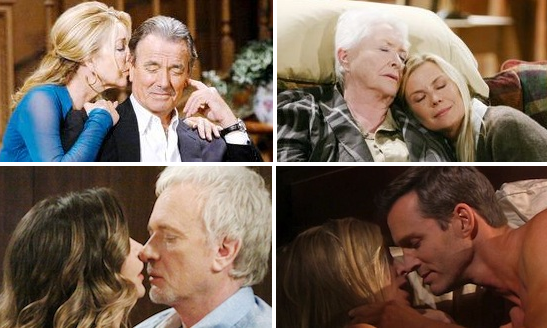 Recent years have brought much chatter about the decline of soaps, not to mention several daytime drama cancelations. 2011 was another rough year for soap fans, with the cancelations of ABC's "One Life to Live" and "All My Children," but it looks like the slump has ended. Fans flocking to support their beloved genre, paired with behind the scenes shakeups have brought a 2012 ratings boom for CBS' "The Young and the Restless" and "The Bold and the Beautiful," ABC's "General Hospital" and NBC's "Days of Our Lives."
Bing: More about "Bold and the Beautiful" | "Young and the Restless" | "General Hospital" | "Days of Our Lives" 
"What's happened is the core audience realized these treasures might go away," Bill Carroll, Vice President and director of programming at Katz Television Group explained to The Hollywood Reporter. "They decided they'd better watch, or the shows are not going to be there."
"General Hospital" executive producer Frank Valentini, who told MSN TV this fall that the wrecking ball threatening daytime was no longer hovering, told THR that storytelling shakeups and the addition of his "One Life to Live" characters helped bring the rating hike to his show. 
Other soaps have also taken to snapping up fan favorites from other shows, hoping to lure in new fans. The most recent example is "The Bold and the Beautiful," which signed "Guiding Light" alums Karla Mosley and Lawrence Saint-Victor, who get into the action Jan. 17 and Jan. 29, respectively, according to TV Guide. The show will also tap into the Telemundo fan base with an appearance by Cindy Luna on Jan. 30.
Across the board in daytime, there's also been a move to bring back core characters and return to the roots of what made each show work back in the day. That may be a more powerful play than just grabbing a name from another show, but it all helps. 
Valentini also credited "the water-cooler sort of effect in social media" for the recent ratings surge, while THR added that DVR and online viewing have also increased viewership, citing this example:
A mid-November episode of "Days" was seen live by about 1.8 million people. Another 409,000 time-shifted to later that day, and an additional 178,000 watched within seven days. (That means about 25 percent of overall viewers watched a recording.)
The story goes on to note that the talk shows aren't keeping up with the soaps. While overall ratings may be decent to better than the soaps, newcomers like "The Chew" and "Katie" aren't luring in the coveted daytime demographic of women aged 25-to-54. Not only do soap fans come together to boycott new offerings and/or the networks that cancel their fave soaps, but these days, the talk show circuit is saturated with contenders, which only serves to thin out the ratings.
Plus: TV's best Scrooges | 2012's most memorable TV moments
As MSN TV has noted before, however, it may still be too soon to tell how these new talk shows will fare as they build momentum. "The Talk," which touts itself as the fastest-growing daytime talk show, took a few years to build an audience, and now there are so many contenders it can make one's head spin. For those keeping track, fledgling talkers "Katie," "The Steve Harvey Show," "The Jeff Probst Show," "Ricki Lake," "Marie" and "Trisha" are hoping to get re-upped next fall and new talk show are in the works from Bethenny Frankel, Queen Latifah, Bobby Flay and Giada de Laurentiis and maybe even Kris Jenner. ABC is also filming a reality show based at UCLA Medical Center, which is already generating negative buzz from "General Hospital" fans.
Nonetheless, Carroll tells THR that this soap ratings surge is good tiding for drama fans.
"At some point in the future, the trend will once again be soap operas," he previewed.
That's a twist soap opera fans would love to see. Stay tuned.