'Glee' Takes on 'Call Me Maybe'
Check out a sneak peek at New Directions' new direction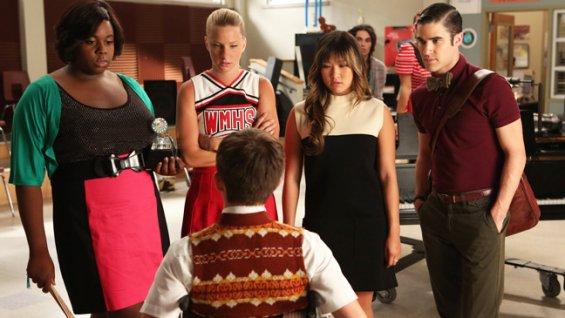 With just two days before the Season 4 premiere of "Glee," FOX is serving up a sneak peek of New Directions, uh, new direction.

With Rachel, Finn, Kurt, Mercedes and the other divas of New Directions graduated on to (hopefully) bigger and better -- although we'll still be seeing them on the show, of course -- the glee club needs to find a new front-and-center star, and fast. The obvious choice? Power player Blaine (Darren Criss), naturally. But as the clip below -- of the 'Glee' gang doing the Carly Rae Jepsen hit "Call Me Maybe" -- shows, Blaine's got some serious competition. In the clip, it seems that Blaine is up against Brittany (Heather Morris), Tina (Jenna Ushkowitz), and the New Directions newest recruit, Wade/Unique, played by "Glee Project" runner-up Alex Newell, who's apparently sticking around for more than the two episodes he scored as a prize. 
The quartet are trying to score the approval and attention of Artie (Kevin McHale), whom they've asked to pick the new Rachel Berry. But there's more new blood coming their way, too, as advisor Will Schuester recruits newbies like Marley (Melissa Benoist, "Homeland"), who might prove some stiff competition herself. 
Check it out:
What do you think about the "Glee" up and comers? Who's going to be the stand-out this season? 
"Glee" premieres returns Thursday, Sept. 13, at 8 p.m. ET/PT on FOX.