'Downton Abbey' Season 3 premiere secrets
We talk to the characters behind Lord Grantham, Thomas, Anna and Mrs. Patmore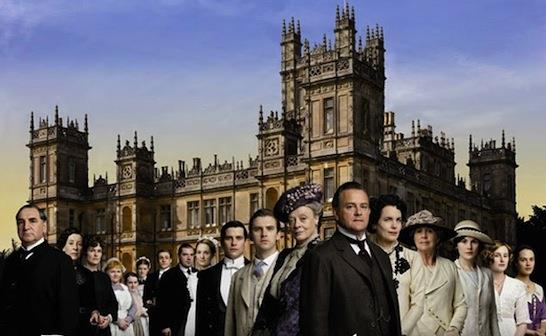 The "Downton Abbey" Season 3 premiere is finally upon us! Wedding mania hits Downton when the hit series returns to PBS Sunday, Jan. 6, but there are also some dark turns ahead. Hugh Bonneville (Robert Crawley), Rob James-Collier (Thomas), Joanne Froggatt (Anna) and Lesley Nicol (Mrs. Patmore) tease the new season and offer insight into their characters.
Bing: More about "Downton Abbey"
Committed "Downton Abbey" fans have no doubt found the video of PBS' New York premiere party Q&A, but MSN TV was on hand for the soiree before that, which took place at the Pacific Design Center in Los Angeles in December. After watching a compilation of amusing "Downton" spoofs, we were treated to the first 20 minutes of Sunday's two-hour premiere. 
Plus: TV hipsters | TV resolutions for 2013 | Reality dramas of the future
The action picks up in spring 1920. And with wedding mania in full effect at Downton, the hot topic upstairs and downstairs is whether Cybil and Tom Branson will return for Mary and Matthew's big day -- They do! A meatier reveal, however, comes with the news that Lord Grantham has lost the family fortune.
Bad investment

For two seasons, "Downton Abbey" has been fixated on finding an heir. Now that that's resolved, there may be nothing left to inherit. The lord of the manor invested the family fortune in the Canadian Railway. And with a wedding to pay for, he learns he's lost it all.
"I think Robert met a man named Bernie Madoff," Hugh Bonneville quipped. "Robert is not a man of investment, and he's made a pretty catastrophic decision with what is remaining of Cora's American money, which was brought over to save Downton 25 years ago. That's a big catalyst for what's coming."
Though Lord Crawley remains committed to keeping Downton in the family, he doesn't take his failure well.
"He's a complete mess," Bonneville previewed. "His whole destiny in life is to hand off Downton in good order to the next generation. In the same way the estate seemed wrested from his grasp in the second season, because [it was] taken over as a hospital, now he's seeing himself as a failure in another way. He's in yet another bit of a doldrums. He brought this particular one on himself and there seems to be no way out. As we'll see, it doesn't get much better."
The new American

There is hope for this family yet, and not just because Robert's finally managing to marry off those daughters of his.
"Over the horizon is the arrival of Shirley MacLaine as Martha Levinson, Cora's mother, who of course is loaded!" Bonneville noted. "There's hope on the horizon that she will bale us out."
Fans are anxious to finally see Shirley MacLaines' Martha go up against Maggie Smith's deliciously snarky Lady Grantham. No surprise, the cast was just as excited by the prospect of watching this icon's lock horns.  
"To be working alongside two great legends of our industry was amazing for all of us, and it was a great rapport between them," Bonneville said. "They were a hoot together. Very funny and very disciplined at the same time, telling stories about great legends of the industry, from Larry Olivier to Billy Wilder. People you grew up admiring from afar were great mates of theirs. It was a privilege."
Plus: Favorite TV Scrooges | TV's best marriage proposals 
Free Bates! 

Everyone at the event received a "Free Bates" T-shirt, but Joanne Froggatt wouldn't reveal when -- or if! -- Anna's new husband will ever be set free.
"It's up to the gods of [showrunner] Julian Fellowes when Bates may or may not get out," she hedged.
With Bates' death sentence lifted, at least things are not as dour as they were last season.
"She's got some hope, and she's got her goal, which is to free her man and clear his name," Froggatt previewed. "There are certainly ups and downs. They struggle with the situation they're in, being apart and him being in prison, but there's more positivity."
War breaks out downstairs

Last season was about surviving The Great War. This season, war will break out at Downton. Rob James-Collier, who was unrecognizable without Thomas' hair grease and conniving smirk, revealed that last season's alliance between Thomas and Mrs. O'Brien will come to an end.  
"It's like the Cold War," he teased. "Who's going to win? You'll have to wait and see!"
The trouble stems from the arrival of O'Brien's nephew Alfred, who is hired to be the new footman.
"Thomas does something quite nasty to O'Brien's nephew, because he's jealous of the attention he's getting," James-Collier previewed. "There's one person you don't want to piss off and that would be Miss O'B! It goes all the way through the season, this series of one-upmanship, and gradually gets more sinister and nasty toward the end."
James-Collier warned the feud will completely destroy one of the character's worlds. "I won't reveal whose!" he said. "I'm good at this, aren't I? I'm teasing you!"
The Gay Edwardian
A fan in the audience wondered about the backstories the cast had created for their characters. James-Collier got yet another laugh by quipping that Thomas used to work in a bar, but he also got real about his character's plight.
"This year, we really get to the crux of Thomas' sexuality and how [being a homosexual] affects a person in Edwardian times," James-Collier said. "It's a tremendous secret and burden to hold on your shoulders. You can't go on Google and find likeminded people. I'm not joking! There's no way to express yourself. You just want to tell someone how you feel, but if you did, you'd end up in prison. You have to try to read the signs and signals and you have society and religions condemning you, but at the same time, you're like, 'This is me.'
"That must have been horrible to live with and have no one to confide in," he continued. "It explains a bit why he is the way he is. He's a bit nasty, but we can let him off now, can't we? Because you try being gay in 1920! It's not easy."
Mrs. Patmore steps out

Mrs. Patmore is set to serve a bigger role in the story this season and Lesley Nicol, who was dazzling in sparkling black slacks, seemed to be teasing a new romance.
"This season for Mrs. Patmore, you see already established relationships developing and rather excitingly, a new one!" Nicol shared. "If I tell you any more, I'll have to kill you!"
"Downton Abbey" fans can catch the first 10 minutes of the premiere on Facebook, and those in search of a serious spoiler won't want to miss our story on Dan Stevens' departure. Otherwise, tune in Sunday to see what's to come for the locals of Downtown.

"Masterpiece Classic: Downton Abbey" returns Sunday, Jan. 6, at 9 p.m. ET/PT on PBS.