John McCook talks 'The Bold and the Beautiful'
Eric Forrester and Taylor take their romance to the next level
"The Bold and the Beautiful" patriarch Eric Forrester stood by Stephanie in her final hours. He celebrated her life, mourned her loss and now, he's moving on -- with Taylor! With Eric back to business at Forrester Creations and in the bedroom, John McCook reflects on life after Stephanie.
Bing: More about "The Bold and the Beautiful" | John McCook
The week of March 4, Eric will move his new lady love into the manse, with the help of a Forrester employee (played by "The Price is Right" model and "All My Children" newbie Rob Wilson). Things are moving fast with Eric and Taylor, literally, and John McCook is thrilled to be back back in the heart of the action.
MSN TV: Am I speaking with Daytime Emmy pre-nominee John McCook?
McCook: Yeah, pre-nominee. I thought this was the final round, but I forgot, there's another whole step to do. Oh my god. Now I'm wading through all these tapes [to choose my submissions for the Blue Ribbon round]! But I'm glad to be among those pre-nominated. It's an honor.
You must also be happy to have so much story on the show, these days.

I know! This is life after Stephanie, and life after Susan Flannery (Stephanie) too. And Ronn (Moss, Ridge)! For those two major characters to leave the show at almost the same time meant the writers had to prune their tree back - and when you prune a tree back, it starts to grow again. It's opened a lot of work for me, so I'm a very happy guy these days. I'm working a lot in the office, mentoring Rick, Thomas and the young ones. Ridge used to do all that. Now I'm the grown up! It's nice to be in those scenes and have something to actually say.
Life without Stephanie is also working without Susan on our domestic front. I really miss that. With Stephanie dying, there was a lot of good stuff to play. Susan was very gracious to give the show those additional months. I'm grateful. It was powerful stuff for everyone.

Plus: What's your Bravo personality? | 'All-Star Celebrity Apprentice' | 'Dancing With the Stars' cast
Eric and Stephanie were very close at the end, but there was still no sex. Eric hadn't gotten any since Donna! Are you happy to see him getting some action, again?
Right? With Stephanie, Eric was always going outside his relationship. He was flirting with this one and that one. There was Lauren, Brooke, Donna. He even tried to have an affair with Taylor, but she couldn't get past Stephanie being her best friend. There are reasons Eric was going outside his relationship and was not faithful - But I'm not trying to justify it! For him to have such a rich, fulfilling relationship with Stephanie in almost every way and still step out all the time, he's either a cad or he's a cad and he was frustrated.
This will be the test. Do you think he can stay faithful to Taylor?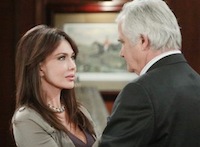 We'll see. Right now, people who are looking at it from a negative point of view are calling this his rebound. "It doesn't mean anything." Then on the other side, they're saying it's not real for Taylor, either. "She's just being manipulative and trying to get the business for her family." We have to sit back and watch. We don't know what the end game is for Eric and Taylor, if there is one. Are they going to get married in a year? Or next week?
The relationship is moving very fast. Taylor moves in Tuesday, March 5! How does that come about?
He kind of surprises her with that. He alludes to it and then he does it. He uses people from Forrester to move her stuff in and all of the sudden, there's this big, beautiful walk in closet in the Forrester bedroom that I've never seen. I guess Stephanie kept her stuff down in the garage. (laughs)
That's quite a thing to surprise someone with. How does Taylor take being moved in?
She's flattered. A little taken aback, but thrilled by it. And so is he. He's tickled to be in love with a woman in a way that he hasn't been in a long time. I like how they're writing most of this stuff for Eric and Taylor. It's very adult and not high school, teenaged romance. The only thing that's not resolved is that there's that huge portrait of Stephanie over the fireplace. The day that is taken down will be a big turning of the page for the Forrester mansion.
The secret is officially out on this romance. How is everyone adjusting to it? 
Thomas and Steffy love seeing their mother happy and in a relationship. Brooke, Hope and Rick are more suspicious. They think Taylor has an ulterior motive and that's the way they're going to define it for a long time. They find it icky that she's in the mansion with Eric. Now, we don't know how Eric's real children will react. Thorne and the girls haven't even been on the show for so long. I think they would have a hard time with someone moving into Stephanie's house. 
[Editor's note: Thorne will make an appearance on March 13.]
What about Ridge? Showrunner Brad Bell has said that whether it's Ronn Moss or a recast, Ridge will eventually come home.
We don't know if or when that character will come back, but the day he does, it will be great conflict for me to play with him. Ridge would have a very hard time with it, of course, because he has such a history with Taylor.
How are you enjoying playing a romance with Hunter Tyler (Taylor), after all these years?
It's wonderful and interesting. It's like a real new relationship. You feel each other out - not up, but out! (laughs) - about how to kiss one another and hold one another. You have to experiment with looking in each other's eyes, playing scenes, taking long beats. These are the nuts and bolts of working with a new actor, but Hunter and I are really happy to have this story together. It's fun for us to have a new relationship to play.
When I heard Stephanie was dying, I assumed we'd eventually find Eric back in a hot triangle with Jackie and Owen. I didn't see this coming, at all.
Well that's good! It would be an obvious thing to bring back Jackie. I actually thought we were going to go down the road with Pam, for a while. I love Alley Mills (Pam) so much that I'd love doing that. I love any scenes with her, but that's not a soap opera match. That's a warm and fuzzy woman at the house taking care of your slippers. That's not a love story.
Speaking of wacky Pam, how is she going to handle the new romance? 
She and Donna are a little upset. They react in different ways. You'll see. Some of it's funny and some of it's not so funny. It's going to be fun to watch and I'm having fun playing it. I no longer have any plaid pants days! One day, they dressed Eric in golfing clothes, with the plaid pants and all. I looked like some old fart who just got off the course. I would come into a scene dressed like that and then stand there. Now, I'm so happy to get the scripts every week. I'm just tickled about the way things are going. 
"The Bold and the Beautiful" airs weekdays on CBS.

Maybe, because of different time zones etc you are not up to scratch. Eric is definitely with Taylor (god knows why!)  The show has become a bit 'Blah' lately. Probably something to do with a couple of characters leaving (Susan Flannery and Ron Moss). They'll need to build up a story line that will keep us riveted, otherwise it will fade away.
Are you sure you want to delete this comment?