'Pretty Little Liars' Talking Points: Double Trouble
10 major plot points you need to know to get by at the water cooler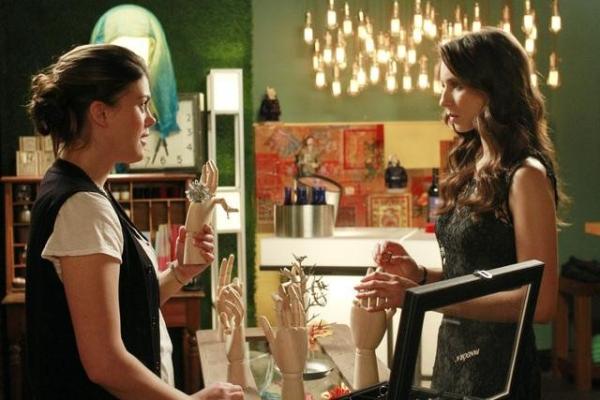 Last week on "Pretty Little Liars," new girlfriend Paige spied Emily kissing ex-girlfriend Maya's cousin Nate – but Emily didn't know that yet.

Bing: More on "Pretty Little Liars"
The girls also watched the surveillance footage from Noel Kahn's house – which essentially exonerated Jenna, Noel and Garrett. Yup, that's right, all three possible suspects. So who killed Maya? And who was A?
This week, Hanna was trying to figure out what to wear to cover the flesh wound on her thigh when Wren called, making Spencer suspicious. "You are not the first person to fall for Downton Grabby," Spencer said. "Hanna, come on, I've been there." But Hanna insisted she wasn't. They didn't have much time to ponder it. Mom Ashley had a visitor – her new church pastor beau, Ted – who brought by a thumb drive he found in a pew. On it: videos of the girls, who clearly didn't know they were being watched. Oops. When Hanna tried to swipe the drive from the counter, Mom caught her in the act. Hanna told her the videos were taken by Mona. Ashley wanted to take them to the cops. Later, Hanna iChatted with Caleb in the computer lab – since the couple was still under wraps – and asked him what she should do. He said they'd done enough stealing for a lifetime. That's when Jenna showed up and told Hanna her time was up.
Aria showed up at Ezra's with flowers for his birthday. He was out cold. He'd stayed up late writing an email to his ex, Maggie. He didn't send it, though. He was stressing about her. Spencer suggested Aria stay out of it. But of course, that's not Aria's style. So she traveled into Wilmington to the school Maggie taught at – pretending to apply for a job. Maggie introduced Aria to her son, Malcolm. "Yeah, I was a teen mom way before it was a reality show."
Paige and Emily were having breakfast at the café, but clearly something was on Emily's mind. She finally told Paige about kissing Nate. "In the moment it felt right," she said, "but now I'm confused by it." Paige suggested maybe it was because they both missed Maya. When Em went to go talk to Nate, he thought they were a couple. "I think we need to keep things on a friendship level," she told him. He told Emily she was just like Maya – reckless.
Spencer ran into CeCe, who reamed her out for not helping her with some trunk show she was throwing. But CeCe really flipped when she saw Emily and Paige getting cozy. She said Allison would be rolling over in her grave if she saw Emily and Pigskin together. That's right, Pigskin. Apparently, Allison and Paige had it out for each other. Flashback to a scene with Alli, all of them getting ready for a party, and huge bruises on her back – courtesy Pigskin. "She's psychotic," Allison said. Later, CeCe told Spencer that it was Emily they'd fought over. Allison had written Paige some super-steamy notes on Em's stolen stationary, tricking the girl into thinking there was a chance – but then she'd confronted Paige about the letters, telling her: "I own you now."
Spencer told Emily about the history between Paige and Allison – but Em didn't want to hear it. "I'm sick of history repeating itself," she said. The Spencer brought up Paige's dark side, calling her a snake – you'll recall, she tried to drown Emily back in the day. Eeeps. Later, Emily asked Paige about it. But Paige denied knowing Alli. Paige suggested maybe it was the girls whom Emily shouldn't trust.
Hanna told Jenna about the thumb drive with the videos – one of which featured Jenna hooking up with her stepbrother Toby. Hanna insisted the girls had nothing to do with it, but Jenna wasn't buying it. Then Nate showed up, asking Hanna about his situation with Emily. Hanna said Emily didn't play games – unlike Jenna, who faked being blind. Nate was riled up by that. "Hey Jenna," he said, "don't pretend you don't see me. I know you saw me." But when?
At Ezra's, Aria ran into his kid brother Wes again. She asked him why he'd told her about Maggie. And then she told him about Ezra's son. She said she had to tell Ezra – "the longer I wait, the bigger the lie." She knew this meant the end of her and Ezra. When Ezra got there, he told them that he talked to Maggie – and she was fine. But she hadn't mentioned the kid. Um, awkward! Wes thought maybe their mom was paying Maggie to keep quiet.
Undressing at CeCe's boutique to try on trunk show goodies, Spencer found herself locked in a dressing room – with a snake. No, literally. CeCe let her out just in time. Spencer told Hanna about the snake – and that she'd called Paige a snake. She insisted that Paige was A. As Hanna was trying on a dress, someone grabbed her. Caleb. He told Hanna he talked to her mom – and that she was likely convinced not to turn over the videos. (Later, Ashley crushed the drive in the disposal.)
Emily showed up at the shop – with Pigskin. Uh, Paige. While Em tried on a dress, Paige made awkward small talk with Spencer. Then Paige said: "I know you guys still have your reservations about me, but I'd really like it if we could make a fresh start." Spencer told Hanna: "She's trying to kill us with kindness before actually just kills us." That's when Emily caught them rifling through Paige's bag. Oops, right? Except that the girls needed proof – and they got it. The earring Aria had buried with Alli. "She probably has Alli's bones, too," Spencer told Aria. "I think Paige is A. The only question is how are we going to tell Emily?"
At home, Paige told Emily the truth about Allison. "She was more than someone I knew in passing," she said. "I knew her well enough to hate her guts. She spent most of 9th grade torturing me." Paige said she'd considered killing herself. "But I thought, if I disappeared forever, she would win. And I wouldn't let her win. I couldn't." Cue the cuddles. When Paige went inside for a second, a figure stepped out of the shadows. Jenna. "I need to talk to you about your friend," she said. "Be very careful who you spend time with Emily. Very careful." Then she got in a cab. Meanwhile, Paige declined a call from Spencer on Emily's cell. 
Parting shot: an old school jukebox. Gloved hands, black sweatshirt. Except wait, the hands pass a hotel key to another pair of gloved hands, another figure, same sweatshirt. Yup, and then there were two. Next week is the summer season finale, so there's sure to be plenty more big reveals -- and lots of cliffhanging questions!
"Pretty Little Liars" airs Tuesdays at 8 p.m. ET/PT on ABC Family.