'True Blood' Talking Points: End of the Ifrit
Ten plot points you need to know to get by at the water cooler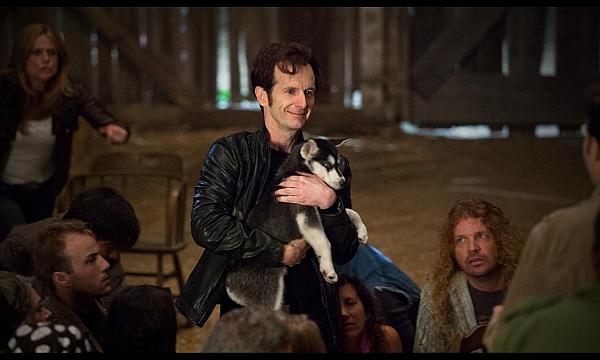 Last week on "True Blood," the usually-evil Eric Northman was playing it all noble -- protesting the Authority and their new mission -- while generally good guy (for a vampire) Bill Compton was showing off a seamy underbelly as he decided to lead the charge by coming up for a plan of attack on the mainstreamers. 

Bing:
More about "True Blood"
Bill's plan? Bomb the Tru Blood factories. So the Authority did exactly that this week. Yup, stage one in motion. Eric participated,  but again it was reluctant -- and then he hightailed it out of there to find Molly. Together, they came up with an escape plan that even Molly thought would likely get Eric killed. Oh well. When Eric finally confronted Bill, Bill told him his whole conversion thing wasn't an act -- he was truly lost, confused, turned upside down by the idea that Lilith might be real. But Eric said they were all just high -- and that Bill's sudden conversion would mean Sookie was just food to him, right? Uh, yeah, maybe not. So he said they'd have to nab Salome and Nora's blood to get out of there. Then he could soul-search on his own time.
Bill and Eric got to work, with Eric seducing his sister Nora, and Bill having a hallucinatory orgy in Salome's bed -- envisioning both Sookie and Lilith in Salome's place. He bit her while they were hot and heavy, so mission accomplished, right? Except when Eric was on his way to escape with a drugged Nora and Molly, there was Bill, and right behind him, Salome and her guards. Traitor!
Russell Eddington and his new beau Steve Newlin were getting serious -- and together they went to address the issue with his pets, the Shreveport werewolves. And since grandma Martha refused to succumb to the lure of fresh V, Russell decided to take wolf baby Emma, whom he thought would make a nice pet for Steve. "Stick with me darlin', I'll give you the world," Russell said. Of course, Alcide was long gone, but someone besides JD is gonna have to man up to get that little cub back. 
Meanwhile, Emma's mama Luna had shifted back to herself -- you'll recall, last week she'd been Luna-as-Sam, nearly making out with Sam-as-Sam. Too weird. Anyway, the pair headed out to hunt those masked Obama Sup-hunters, back to where they found Jessica last week. While there, they smelled some pig poop -- and they headed back to tell Sheriff Andy Bellefleur about their discovery as he wrapped up a press conference reassuring Bon Temps that the real Obama was not behind the Sup-shootings. 
Andy dismissed Sam and Luna, but the pair shifted into flies on the wall -- literally. Andy and Jason watched a video the Sup-shooters had made -- vampires melting like marshmallows in the sun, Jason noted -- and their leader, the Dragon, calling the shots. They thought this Dragon might have Hoyt, who was still MIA. Then Andy thought he recognized the boots he saw in the video -- a retirement gift for Sheriff Deerborne. Was Deerborne the Dragon?
After checking in with Bud Deerborne to see if he knew anything about her parents;d death -- which he said he didn't -- Sookie called upon Lafayette and his newfound medium powers -- business sure picked up fast, huh? -- to see if he could clarify whom that new vampire stalking her was. But Lafayette had no luck. "I ain't Whoopi Goldberg in 'Ghost,' although I am way prettier," he told Sook. But while they were chatting about Tara -- who told him to stop texting or she'd eat him -- Lafayette started hearing voices, including Sookie's Gran. Gran's message: Sookie was sleeping on top of answers. And we don't think she meant one of Sook's many men. 
Under the bed, Sookie found a box of family stuff -- like Jason's only report card with a B on it. But there was also an article that revealed that Sheriff Deerborne had discovered their parents bodies. Well, why didn't Gran just say so, Lafayette wondered. "Dead folk, why you gotta be all cryptic? It ain't cute." Tun, tun, tun! What else is Deerborne hiding, I wonder?
Didn't take long to find out. Sookie went back to Deerborne's and listening to his thoughts, discovered he was hiding something. But then, before she could figure out what, his mistress, Sweetie, knocked her out cold. Nope, not jealous. Sookie awoke in a pen of pigs, Hoyt by her side. Turns out Sweetie was the Dragon, and she and Bud and the Obamas were planning to film those pigs eating Sookie and Hoyt in hopes that some weird viral video would convince lawmakers that Sups should be shot on sight. That's when Andy, Jason, Sam-as-a-pig and Luna all took the crazies down. Well, thank god that's over was the general sentiment, as Sam said it was time to bring Emma home. Little did they know...
Terry, having learned from the seance that either he or Patrick would have to die for the curse to be called off, decided he'd offer Patrick a fair fight to the death. Arlene went to work, and there was Patrick, holding her hostage at gunpoint. Geez, Merlotte's has seen all kinds of chaos lately. When Terry got there, he told him to get down on his knees. Patrick said he was expecting a kid too -- nice new development there -- and so he couldn't afford to fight fair. But Arlene stabbed Patrick with a pencil and got the gun. This was Terry's chance, but he couldn't do it. Then the curse lady showed up, and told him to do what's right. So he shot Patrick, and Ifrit showed up and scurried him away. 
Upon hearing about the bombing, Pam told Tara it was business as unusual. Pam's three-liner of the week. "There are two things I try to stay away from. Humans who eat a lot of fish and politics. So whatever comes next, we keep our heads down, our tits up, and the Tru Blood flowing." But Tara knew Pam was still fretting about Eric, despite the fact that he'd released her. When Tara asked if she wanted to talk, Pam retorted: "Just because we drank a bitch together does not make us Oprah and Gayle. Get the f--- back to work." But Tara could hold her own: "Suck me, Vampire Barbie," was her response. In the end though, Pam was overruled by a new vampire in town who thought he owned the place. He informed Pam of the Authority's new agenda -- and flung her across the room -- before telling the vamps at Fangtasia that "drinks are on me." And he didn't mean Tru Blood.
"True Blood" airs Sundays at 9 p.m. on HBO.