Is 'Once Upon a Time' Off to See the Wizard?
Fantasy-drama creators discuss possible new Storybook inclusions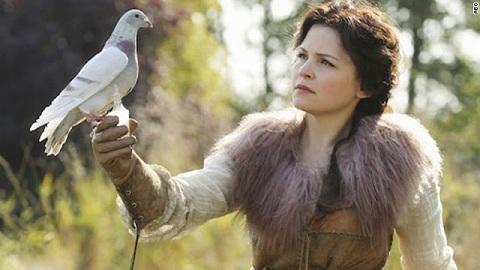 "Once Upon a Time" writers can't just integrate any and every historically fictitious character into their scripts. Well, they could, but the majority would cost a pretty penny to license. Fortunately for them, hundreds are available for re-purposing thanks to a wonderful little legal statute known as public domain. In a nutshell, it means no one has intellectual ownership over an artistic creation. Like, for example, Snow White and a slew of other original Disney cornerstones. 
This led
Entertainment Weekly
to inquire with "Once" creators Edward Kitsis and Adam Horowitz about what other nostalgic heroes and villains from literature and cinematic past could take up residence in good ol' Storybook, Maine.
The duo were particularly forthcoming about the "when, not if" likelihood that the Wizard of Oz, or some representative from "Oz" myth, will appear. (Personally, we'd love to see how Auntie Em would adjust to life in a modern, surreal small town, but that's just us.) In addition, Horowitz all but guaranteed the Little Mermaid would swim onto Storybook's shores, saying, "It's already woven into the fabric of what we're doing; the only question is when." Likewise, he concedes that Robin Hood is "definitely in-bounds."
Sadly, neither Jack Sparrow nor Sherlock Holmes are on their radar, out of their respect for
Johnny Depp
and
Benedict Cumberbatch
's signature roles. Nor is Genghis Khan a candidate to terrorize Snow White any time soon. Although it's too bad Christian Grey is the property of
E.L. James
, as Kitsis wonders aloud, "Are we doing '
Fifty Shades of Grey
?' Yes!" E.L., we hope you're listening.
"Once Upon a Time" airs Sundays at 8 p.m. ET/PT on ABC.
Are you sure you want to delete this comment?