'Dallas' doesn't live here anymore
Why I'm pulling the plug after J.R.'s funeral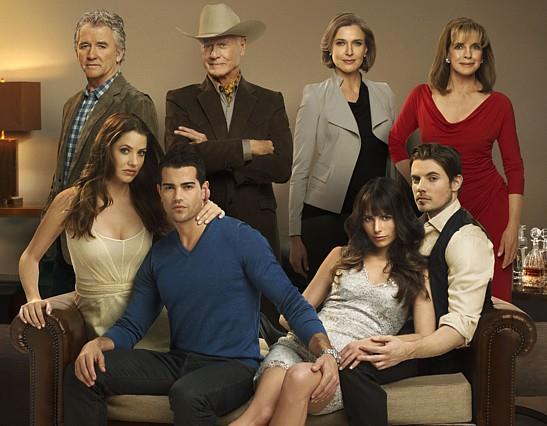 There's a feud brewing in my family worse than the Ewings and Barnes. It's between my wife, who grew up watching "Dallas," and me, who would rather clean shrimp for an hour.
Jo Ann and I have been married five years. Because TV is so important to us both, we do minimal separate viewing. Once that starts, we fear, everything else important follows. So we share nightly time with shows we either agree on because we have similar taste, or that one of us puts up with because marriage is a 50-50 partnership.
Bing: More on Larry Hagman | "Dallas" 
TNT's revamped "Dallas" is such a passion for my wife, she dances to the theme song, like she did with her mom at age 12. So I stuck with my woman through the first season. Sometimes, I even danced, too. (Hey, she tolerates "Tosh.0," so it's only fair.)
My childhood awareness of the characters -- combined with tutelage from Jo Ann, Wikipedia and YouTube -- caught me up to basic speed: J.R. is evil, Bobby is good and the only time they team up and mean it is against the even-eviler-than-J.R​. Cliff Barnes.
Unfortunately, like Harry Potter and apricots, it just never happened for me. I really can't say if the new version is as good or better as the original. But if it is, then the original must have sucked. And it's not just how often my wife tells me that I need to be more of a rock, like Bobby is.
I despise how that "Celebrity Apprentice" thumping music blares whenever someone utters something we're supposed to realize has importance. I despise all the hard young nobodies. (Just because some producers declare them to be the rightful heirs of characters who earned their legacy over decades, doesn't make it so. Besides, they belong on Showtime, where they can be shown having sex.)


And I despise how no character seems remotely interesting next to J.R. Whatever cunning plot some young smarty-pants someone hatches, Larry Hagman and his antenna eyebrows are invariably, often impossibly, two steps ahead with a quotable quip. (This week, even though he can hardly walk or talk, J.R. managed to break an unnoticed entering into the apartment of Cliff Barnes' deadly henchman, greet him in his own desk chair and utter without being shot: "It's a sad day when an old man can sneak up on a super ninja.")


Plus: TV reunions we'd like to see | 11 shows guys watch when women aren't looking

Yet Larry Hagman's screen minutes seem to total less than five per episode. And after this season's sixth episode, they will drop to 0.
Tuesday night, I laid down the law in my own Southfork. Once J.R.'s out of "Dallas," I am, too. And while I didn't wake up on the couch, let me tell you, it wasn't received with enthusiasm.
I guess it's just you and me for a while, "Tosh.0."
"Dallas" airs Tuesdays at 9 p.m. ET/PT on TNT.
I don't think this reincarnation of "Dallas" is much to get excited over...I like(d) Larry Hagman as J.R., but this new show seems forced, at best. Sometimes, you just need to leave the past alone...
Tosh.0????? SERIOUSLY??? The absolute WORST show on the idiot box, PERIOD. How can this continue??? A true travesty.

Wow Corey, that was said PERFECTLY. I've been having the same conversation w/my family, friends & co-workers since Dallas was brought back to life.
 I'm sad it was brought back too late though. No one, & I do mean NO ONE w/ever be what JR. was. Never! Toxic magic like that comes around once in a lifetime. The life Mr. Hagman gave JR. was poetry in motion.
His hard body wanna be bad guy kid can try & try & try & try. It's just never gonna amount to much. The dynamic between the sons is no where near the level the dynamic between the brothers was. Same with their sappy love triangle. I've yet to feel ANY heat from ANY episode. Maybe they picked the wrong newbie's to fill these BIG shoes....I dunno...I've seen some of them in previous bodies of work & even there they r (to me anyway) just "so-so"......The chemistry between this cross over cast, (between the old guard & the new) SUCKS. I can say that w/conviction because I was a die hard Dallas fan from day 1.
But, like many I'm sure, I stayed on board SOLELY because of Mr. H! I knew of his health issues, but they for sure did not slow him down. I can only imagine what it would have been like, had he been 100%. That's what makes me sad about this. They brought it back too late. Not that most of the great shows or movies can be either remade or brought back & amped up for modern times. Sometimes it just does not work & when it does, it's RARE. Case in point, The Godfather. Rare. Brining back Dallas, even WITH some original members, just did not pack any heat, smoke or interest for me. I just don't care, but it's NOT because of the old guard....it's their chemistry WITH the new...& I think the story lines sort of blow too. =(
So like u, as soon as the final episodes have aired with Mr. H, I to will bow out. I guess it's sort of cool that we who loved JR. while growing up, were able to see him as JR., leave right where he started. I'm sure lots of people wonder when their fav. shows go off the air, what things would be like after all this time & what direction their stories would go. We are the lucky ones. We actually got to SEE this!
Mr. H, ur gonna be missed!
Thanks 4 the time <3 
Are you sure you want to delete this comment?