Chris Rock, Samuel L. Jackson and Others Honor Eddie Murphy
Spike TV announces lineup for the iconic comedian's upcoming tribute special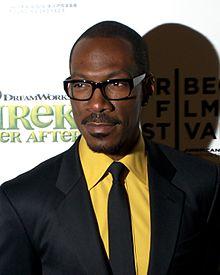 Chris Rock, Samuel L. Jackson, Arsenio Hall and Tracy Morgan are just a few of the big names slated to pay homage to iconic comedian Eddie Murphy on an upcoming Spike TV special.
Titled, "Eddie Murphy: One Night Only," the tribute will be shot and aired in November, the network announced. It is also the first televised salute to the 51-year-old star best known for his stint on "Saturday Night Live" and for flicks such as "Beverly Hills Cop," "Trading Places" and "Coming to America."
Bing: More on 'Eddie Murphy: One Night Only' | Eddie Murphy
The lineup also includes filmmaker Brett Ratner, the star's older brother Charlie Murphy, DreamWorks honcho Jeffrey Katzenberg and comedian Martin Lawrence.
Plus: TV actors who also sing | TV superheroes from A to Z
The special will include short films, musical performances and comedy sketches that celebrate Murphy's three-decade long career. No word yet on if there will be a roast element, but if there is, we hope Murphy's failed pop-music career, "Norbit" and transvestite-prostit​ute scandal are addressed. But these are his friends, so it's doubtful.
The Brooklyn, N.Y., native recently grabbed positive headlines when CBS picked up the pilot for his "Beverly Hills Cop" TV spinoff last month.
"Eddie Murphy: One Night Only" premieres Wednesday, Nov. 14, on Spike TV.